From the Makers of the Hachinohe Classic Mishima Cider Comes a New & Exciting Beverage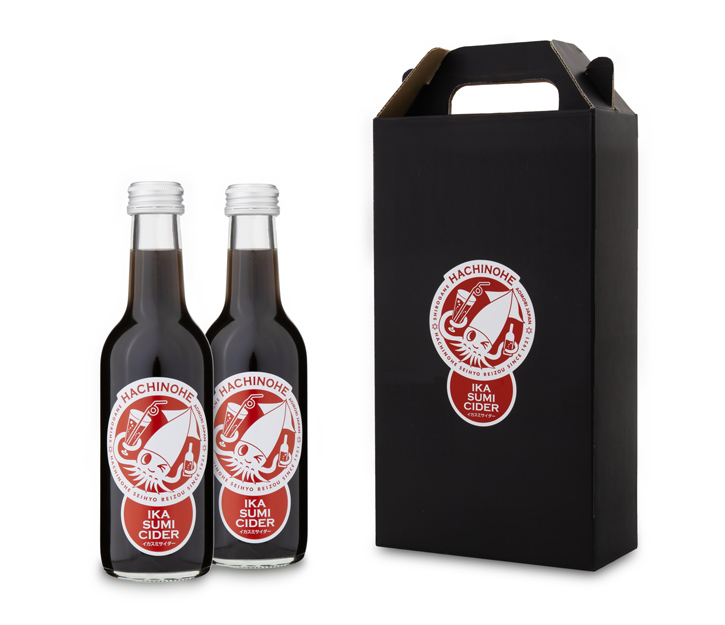 The Hachinohe company Hachinohe Seihyo Reizo has been making a soda pop since 1922. Its Mishima Citron & Banana Cider are two local favorites that instantly bring back heartwarming childhood memories for many in Hachinohe. Each of the sodas are made with fresh water from a local natural spring called the Mishima Spring, from where the company's drinks draw their names.
Starting in the summer of 2019, the company decided to shake things up. They wanted to make something new, but still create a drink that would reflect their dedication to the Hachinohe community. That's when they hit upon the idea of making a beverage using ika sumi, or squid ink. Hachinohe is famous throughout the country for its delicious squid and it catches more squid than anywhere else in Japan. Combining these two icons of Hachinohe culture could only lead to success, and so the company set to work at making their new original product: Squid Ink Cider.    
"Black as Night, & Cooler Still"
At first glance, the cider has an eye-catching, lustrous black color to it. When you take a sip of it, a cooling session instantly begins to spread pleasantly throughout the mouth. Although consuming food and beverages can be intimidating for those who aren't used to it, the drink has no fishy or off-putting taste or smell to it. Instead, it retains most of its classic Mishima Cider taste, with only a hint of something different to it that gives the drink another layer and adds complexity to it.
It's great to drink cold, just as it is, but we're betting it'd be great for mixed drinks (like a squid ink highball or even chuhai!) or cocktails. The drink truly looks and tastes unique, so if you have a chance do not miss out on the opportunity to try what is sure to be a new Hachinohe staple.
The Squid Ink Cider can currently be purchased at the Hasshoku Center, the Hachinohe Portal Museum hacchi, the Minatto Fish Market, the Hachinohe Seihyo Co., etc.