When night falls the innocuous shopping streets of downtown Hachinohe suddenly come alive. Soon what looks like a sleepy little town transforms into a wonderland of drink, food, and atmosphere.
The city has
8
yokocho,
or alleyways, where you can pop into small bars for a drink and a chat with the locals. Come enjoy a night like no other as you experience a slice of the authentic, informal, and vibrant nightlife, not quite like anywhere else in Japan.
The Birth of Yokocho Culture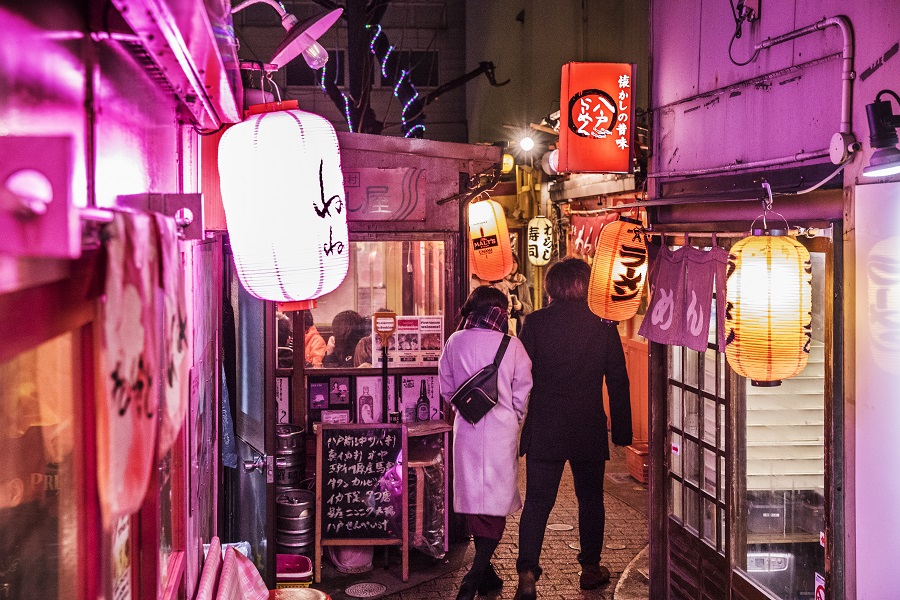 Hachinohe has thrived over the centuries as a port city. In the past, when fishermen came into port they would be eager to spend their money on dining and entertainment. Therefore, Hachinohe has always had a healthy developed nightlife. 
The alleyways in downtown, however, began to develop during the post-WWII period. The area used to be a residential district but a marketplace was established there for people returning from the war. After a cinema and other venues opened, streets full of restaurants and bars followed and have continued to grow over the years.  
Today, Hachinohe has some of Tohoku's liveliest yokocho. Its most famous is alleyway is the Miroku Yokocho, which opened when the Tohoku Shinkansen began service to Hachinohe in 2002. It is one of the most visited attractions in Hachinohe is frequented by locals, travelers and business people alike. Every evening the sound of cheerful laughter rings out from the alleyways.
Enough About History, Let's Drink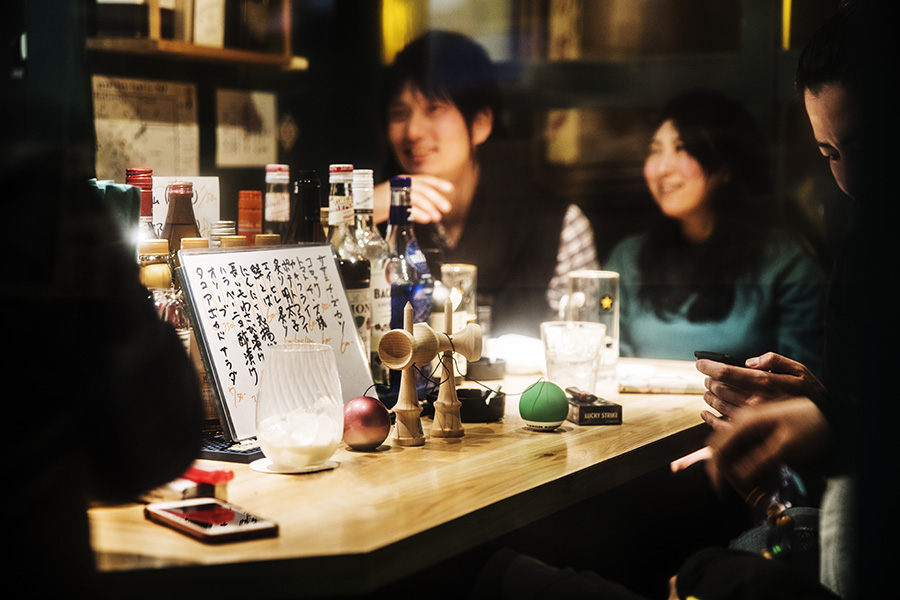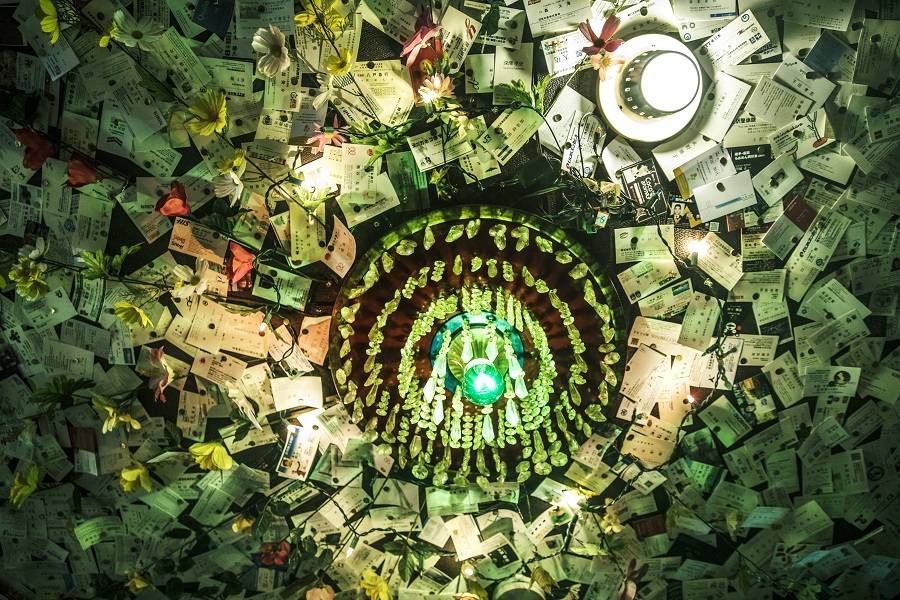 Eight yokocho wind their way through the downtown area of Hachinohe, creating a maze of izakaya, bars, and restaurant-lined streets. Each of the yokocho has its distinctive atmosphere. There are a relatively small number of chain restaurants in the downtown area compared with most cities, and many of the establishments are either mom & pop owned or run by groups of friends.
The places you discover in the yokocho are regularly very small and can only seat 10 or fewer people. Although it makes accommodating larger groups more difficult, it is the smallness of these establishments that make them so much more intimate and relaxing. You'll find that you can quickly develop a rapport with the owners and customers around you. In a yokocho, you'll find animated conversation, welcoming staff, and an endless font of drinks.
If you're ready to take the dive into Hachinohe's alleyways, to lose track of time on an unforgettable izakaya crawl, to get intoxicated not just from good sake but from good company, then you're ready to explore the yokocho. 
»Hachinohe Gourmet
Exploring the labyrinth of Hachinohe's yokocho alleys
This course will introduce all 8 yokocho of Hachinohe, but feel free to find your own path by entering bars that spark your interests, and delve into a unique and unforgettable night.
Hachinohe Portal Museum 'Hacchi'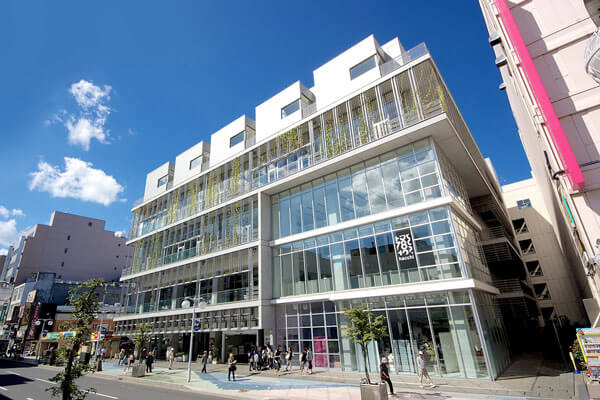 Get the "Explore Hachinohe's Yokocho Alleys" pamphlet from the information counter on the first floor.
▼ Cross Omote-Dori Street (National Route 340)
Alleyways, Part 1: Miroku-Yokocho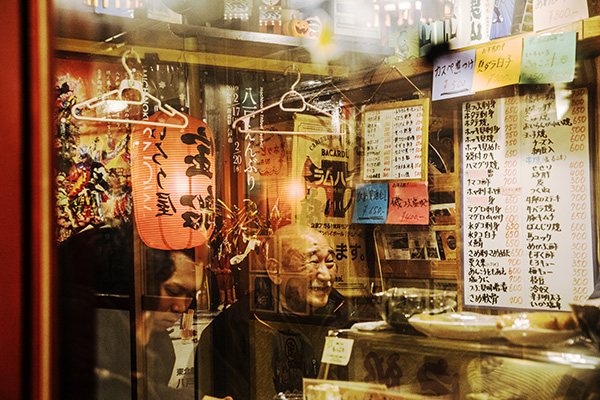 Bursting with energy, Miroku Yokocho is comfortable even for those who are new to "yokocho" nightlife. It gets its name from the fact that it runs between Mikkamachi ("mi" means "3″) and Muikamachi ("mui", meaning "6", also pronounced "roku").
▼ Leave Miroku Yokocho and cross Omote-Dori Street to the lanterns marking Takashokoji. Turn left at the poster of actress Sayuri Yoshinaga.
Alleyways, Part 2: Tanuki-Koji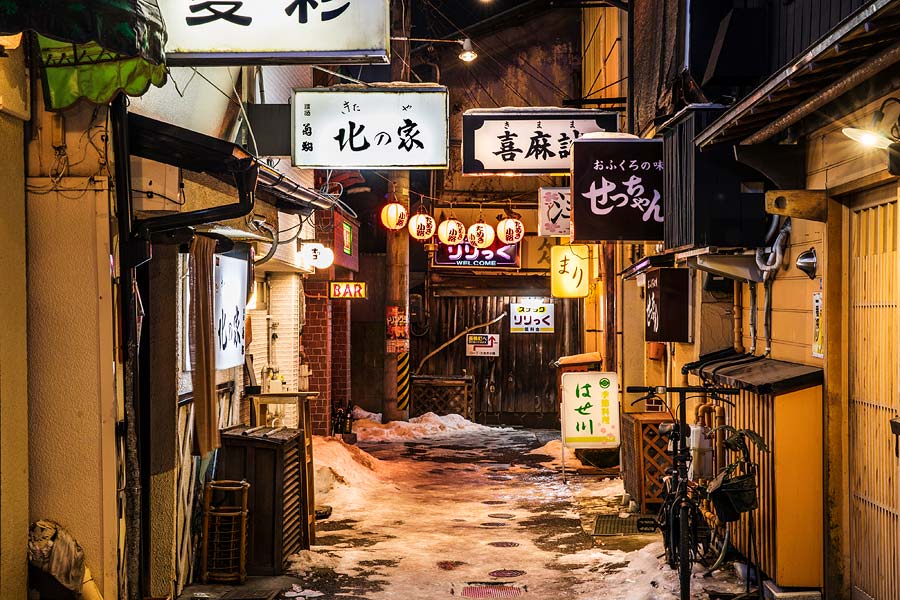 With its brightly-lit signs, the Tanuki-Koji looks just like an alleyway from a movie set.
Click here for a list the of bars, izakaya, & restaurants on Tanukikoji  

Sheru(Snack Bar)

 Page I(Snack Bar)

Aisai(Snack Bar)

Sekiya(Yakitori)

Ankobo(Snack Bar)

Kimama(Snack Bar)

Mari(Snack Bar)
▼ It looks like a dead-end, but you can get through
Alleyways, Part 3: Goban-Gai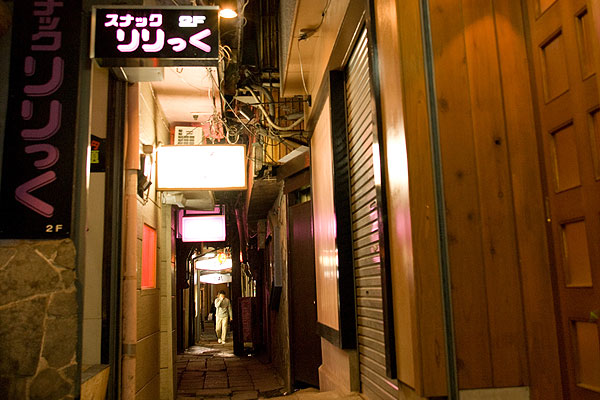 Even at noon, the Goban Gai alleyway is tinged with a shadowy, mysterious atmosphere.
Click here for a list the of bars, izakaya, & restaurants on Goban-Gai 

Ririkku (Snack Bar) 

Hana-to-Yanagi (Japanese Style Snack Bar)

Naoko (Snack Bar)

Monsuta-Garuzu (Snack Bar)

Ru-ju (Snack Bar)

Samenamasu (Snack Bar) 

W (Bar)

Sakedokoro-tsuchinoko (Izakaya)  

ACE(Pub)

Dandy(Pub)
▼ Cross Nagayokocho
Alleyways, Part 4: Hachinohe-Showa-Dori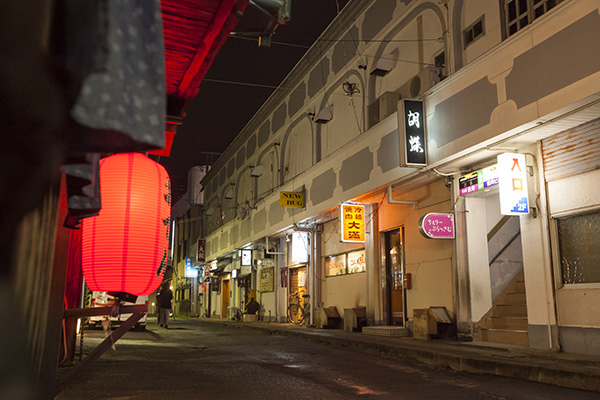 Many of the proprietors here were born in the Showa era. Showa-Dori is quite wide and is an easy alleyway to enter.
Click here for a list the of bars, izakaya, & restaurant Showadori

Kurabu Asuterion (Club)

Asuma(Snack Bar)

Yukinko (Karaoke & Snack Bar)

Tairin(Snack Bar)

Kocho

NEW BUG(Snack Bar)

Cheri- Burassamu (Snack Bar)

Negi Bouzu (Snack Bar)
▼ Go through the side of the parking lot and turn left, then turn left at the wooden arch
Alleyways, Part 5: Harmonika Yokocho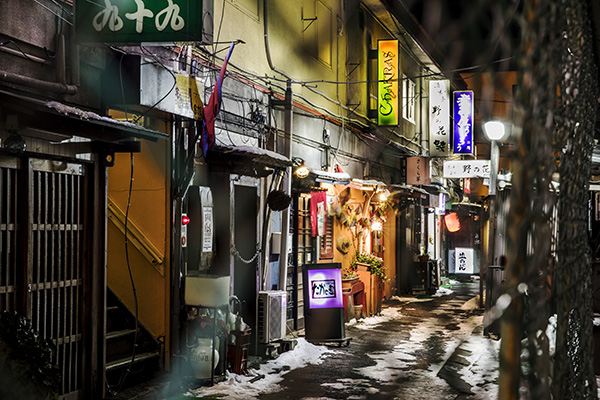 Click here for a list the of bars, izakaya, & restaurants on Harmonika Yokocho

Nori-chan (Izakaya)

POWER(Small Plates)

Taka-no-Su (Girls Bar)

Sakuraso(Izakaya)

Ra・Ra(Izakaya)

Niuriya Uirou (Izakaya) 
▼ Go through the Post Core Building and cross Nagayokocho
Alleyways, Part 6: Nagayokocho Rensagai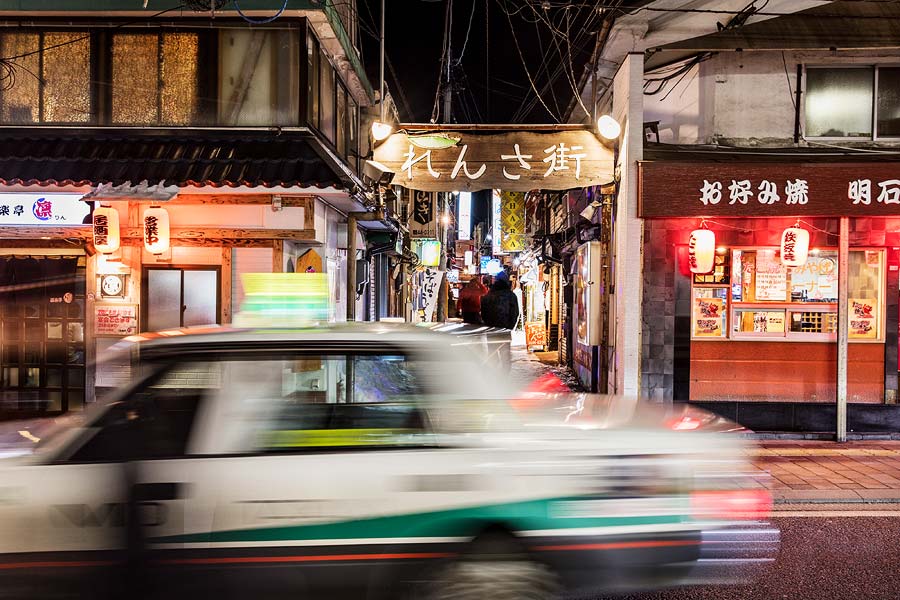 Enjoy the depth of this U-shaped alley with its line of unique restaurants and bars.
Click here for a list the of bars, izakaya, & restaurants on Nagayokocho Rengasai 
▼ Continue going straight ahead
Alleyways, Part 7: Rocho Rensagai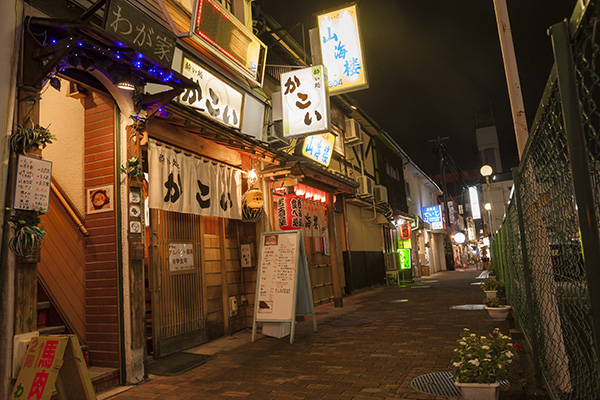 This lively alleyway links the Nagayokocho Rensagai with the Rocho alleyway. Rocho alleyway gets its name from the prison ("roya") that was located in this area during the feudal age.
Click here for a list the of bars, izakaya, & restaurants on Rocho Rengasai
▼ Turn right at Takashokoji Cross Omote-Dori Street and enter Daikichi-Dori, where a sign marks a shop specializing in mackerel.
Alleyways, Part 8: Hanakoji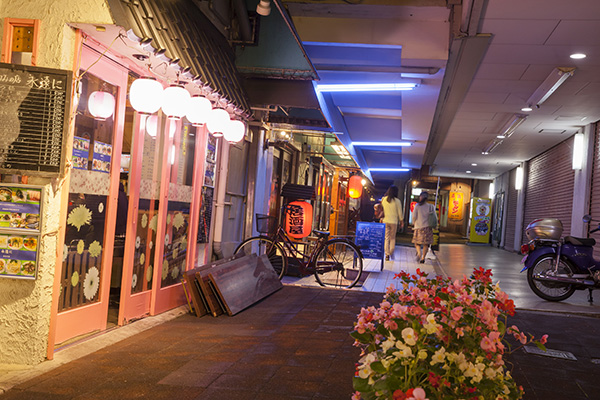 Hanakoji is the alleyway that transects Miroko Yokocho.
Click here for a list the of bars, izakaya, & restaurants on Hanakoji
▼ Turn right on Miroku Yokocho and cross the Omote-Dori Street (National Route 340) to arrive back at:
The Hachinohe Portal Museum 'Hacchi'
「The month-long "Yopparai ni Ai wo" in Hachinohe's Yokocho district」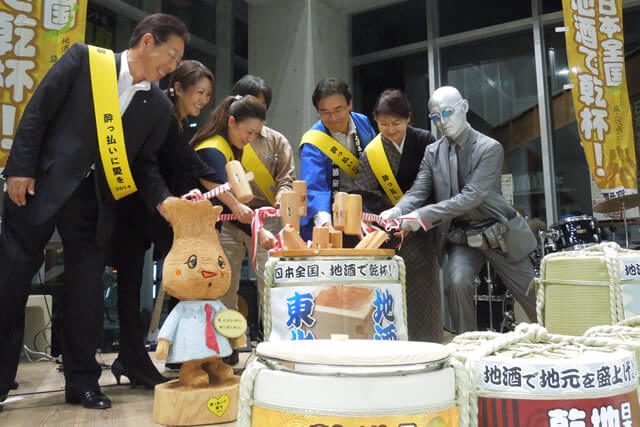 "Yopparai ni Ai wo" is an art event in which the attractions of Hachinohe's alleys, with their rows of tiny bars and restaurants, are enjoyed from a variety of new angles. With events and activities such as the "Yokocho Only You Theater" performing dances and plays on the streets and in the bars and restaurants, a nighttime pedestrian mall and the "Nomidaore Rally" pub crawl, the yokocho district becomes even more festive and colorful than usual.
abroad in Japan
Held:

Every October

Location:

All yokocho in central Hachinohe

Contact:

Yopparai-ni-Ai Committee
TEL 0178-22-8228
http://yopparai8.jp/2018/