Garlic: Not Just for Cooking
Has there ever been a person that has looked at garlic and thought, 'what would happen if you put that in a drink?'
If there wasn't before, then Sato-san of the Garlic Center in the town of Takko has to be the first.
As head of the General Affairs and Sales Management Section of the Center, Mrs. Sato is constantly thinking about new and creative ways to promote her town's most famous product: Garlic. One day in August of 2014, an idea came to her. 'It just came to me, and I thought "Oh, that's an interesting idea, well let's try it even if its half as a joke,"' she said laughingly. Half as a joke or not, the drink became a hit and has sold more than 270,000 bottles.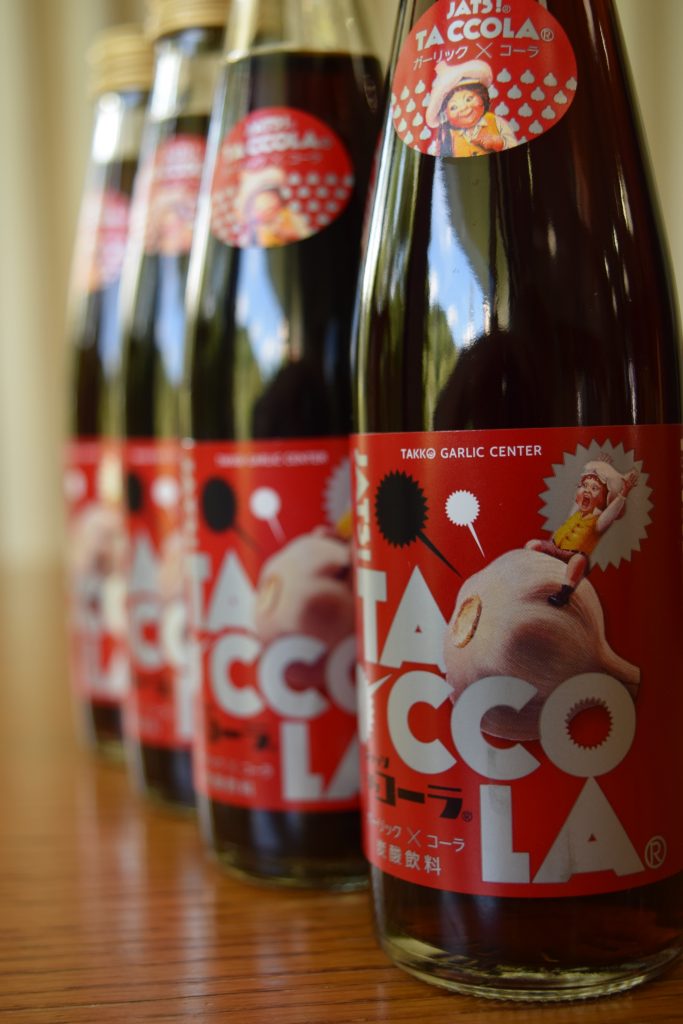 The Taccola Revolution Begins
But why has this garlic flavored drink, something that no one thought humanity needed, succeeded? What makes the garlic-flavored cola 'taccola' so alluring? The more you think about the drink, the more the questions keep coming, so we sat down with Mrs. Sato for a quick Q&A session. Kind enough to answer our questions, she smiled and giggled her way through explaining all about her extremely popular product.
Q&A Session with Mrs. Sato (creator of Taccola) 
Q:One of the first things we noticed when looking at the bottle is the word 'JATS!' above Taccola. Is that the name of the kid on the label?
A:It is a word from the Takko accent in this area. People use the exclamation 'jattsu' when they are surprised. It's a bit similar to the hit song Je Je Je, that was popular in Japan a few years back. The boy on the bottle doesn't have an official name, but if anyone thinks of a good one please let us know!
Q:So what do you use to add the garlic flavor to the cola?
A:We use just a touch of garlic powder that is made from 100% Takko town garlic. Isn't the after taste of the cola taste just like real garlic?
Q:Why did you choose to make a garlic-flavored cola in particular?
A: At first we thought about making a garlic-flavored cider, or some other similar beverage. But because we wanted to use real garlic powder, we were concerned about the granules clouding or making clearer liquids unsightly. So through a process of trial and error that the company who was helping us develop the product carried out, we eventually landed on making a cola. This way we could use garlic powder and not have to worry about discoloring the drink, and after we here at the garlic center taste-tested the product the company made we were sold on the idea.
Q:What foods go well with Taccola?
A:We suggest drinking Taccola with rich or fatty foods. Our Garlic Steak and Rice is a great choice, but it also goes well with French fries, pizza, etc., so it suits most food in the Garlic center.
"There are a lot of people who have told us that we're crazy thinking a drink like this tastes good and that everyone else will think it sounds horrible. But amongst the people who start off saying 'Oh that sounds gross' and end up buying the drink to try it. By the time they finished it, even the people who still don't like it have a smile on their face and have enjoyed the fun of trying the drink. The fun of the product, the enjoyment of trying something a little bit crazy is kinda what we were aiming for when we made it."
After the conversation with Mrs. Sato, we certainly can understand the appeal of Taccola, and we too hope that it puts a smile on the face of everyone who tries it.
If you've never had Takko town's famous garlic cola, we recommend you give it a try! Who knows you might just end up being one of the people who dig it, and even if you don't, we're sure you'll be smiling by the time you finish the bottle.