Nanbu Sakiori
During the Edo period (1603–1867), the cold weather of southern Aomori made it hard to grow cotton. This climate made cotton cloth an extremely precious commodity and led the people in the Hachinohe area to develop a unique style of weaving called Nanbu sakiori. This style of weaving served to conserve cotton while allowing the local people to make new pieces of clothing. In the Nanbu sakiori process, weavers would repurpose old, worn clothes by tearing them to pieces and combining them to create new items.

 

Today this process is still practiced in much the same way as it was in the past. First, old clothes are torn into strips. These strips are used as the weft, woven horizontally between cotton thread on a hand-operated loom called a jiki. The intricate weaving process guarantees no two products come out alike even when using the same materials, giving each new item a distinct feel.

 

The Nanbu sakiori technique produces cloth that is warm and strong. Traditionally used for essential items such as rugs, work clothes, belts, and kotatsu covers, today, these handmade textiles and beautiful patterns adorn decorative table cloths, small gifts, and other items.

There are a variety of places where you can purchase

Nanbu sakiori

products in the Hachinohe area, and even a few places where you can experience weaving a piece yourself. For more information on where to purchase or make your own Nanbu

sakiori

, please contact us at Visit Hachinohe.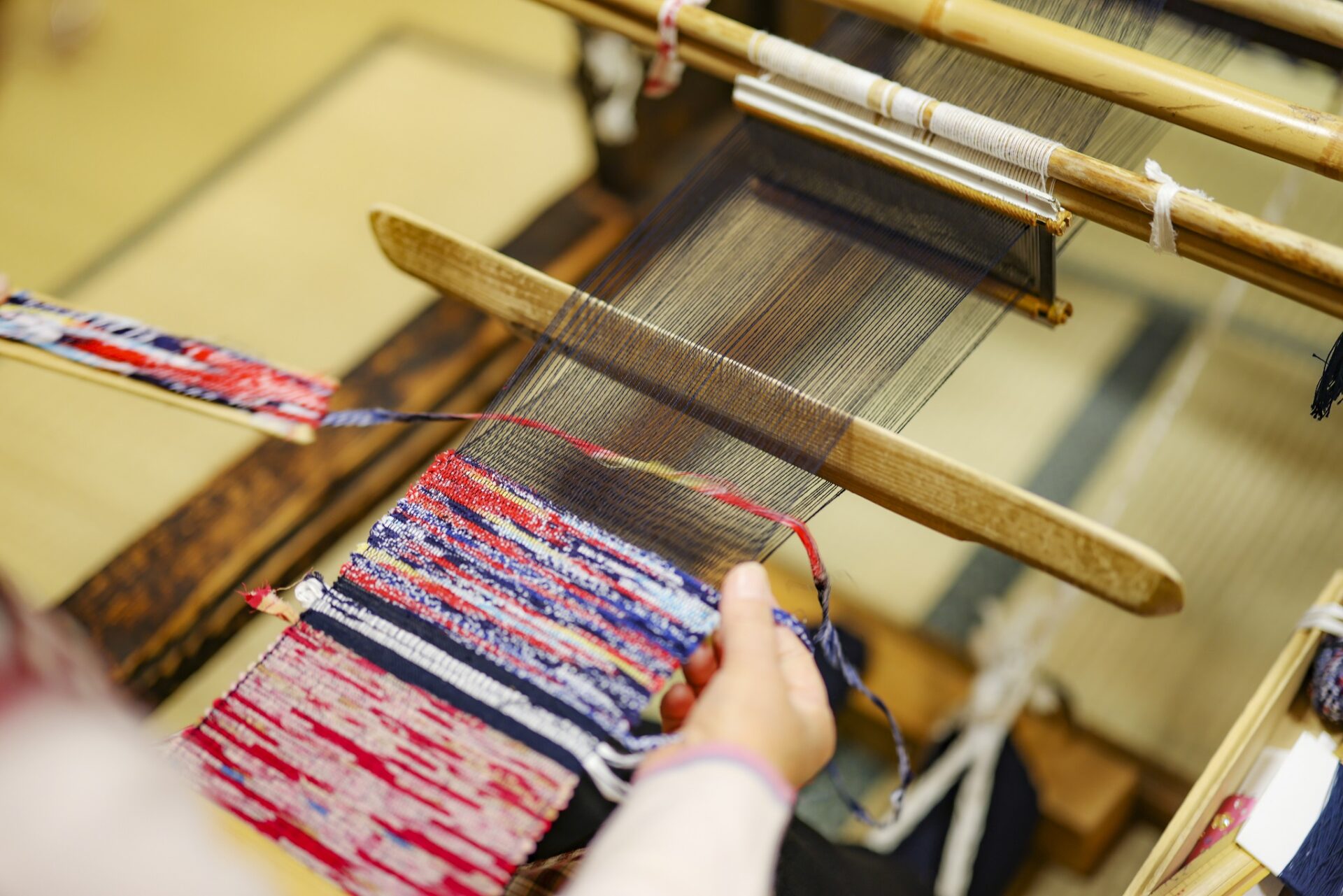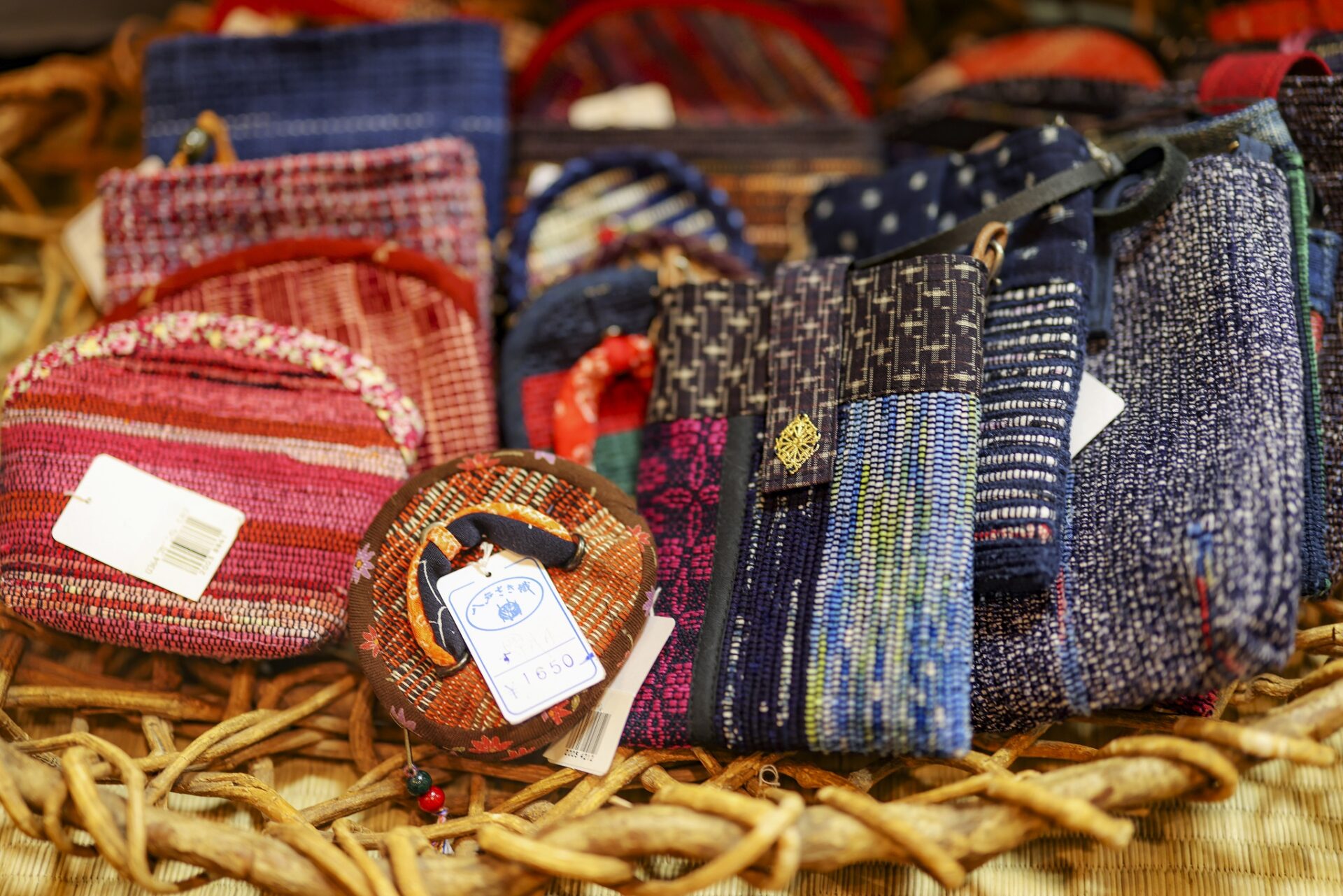 Nanbu Hishizashi
Nanbu hishizashi
is a style of embroidery developed during the Edo period (1603–1867) in the southern area of Aomori and is one of the prefecture's three traditional embroidery designs.
Cotton was hard to cultivate in the area's cold climate, so hemp became a major crop grown for clothing in northern Japan. The hishizashi style of embroidery was developed as a way to reinforce and insulate clothes using this hemp, together with the little cotton available to the people in the area.
In the town of Gonohe, the technique was used for making all manner of clothing, such as pants, traditional children's socks, and
mae-kake
(an apron-like garment). The patterns are embroidered in sets of two, four, or six, and there are said to be hundreds of designs available.
Hishizashi
uses wool or cotton yarn, which is worked by hand, stitch by stitch, resulting in broad diamond-shaped patterns. The different styles of embroidery, each with unique patterns and colors, are said to represent different aspects in nature.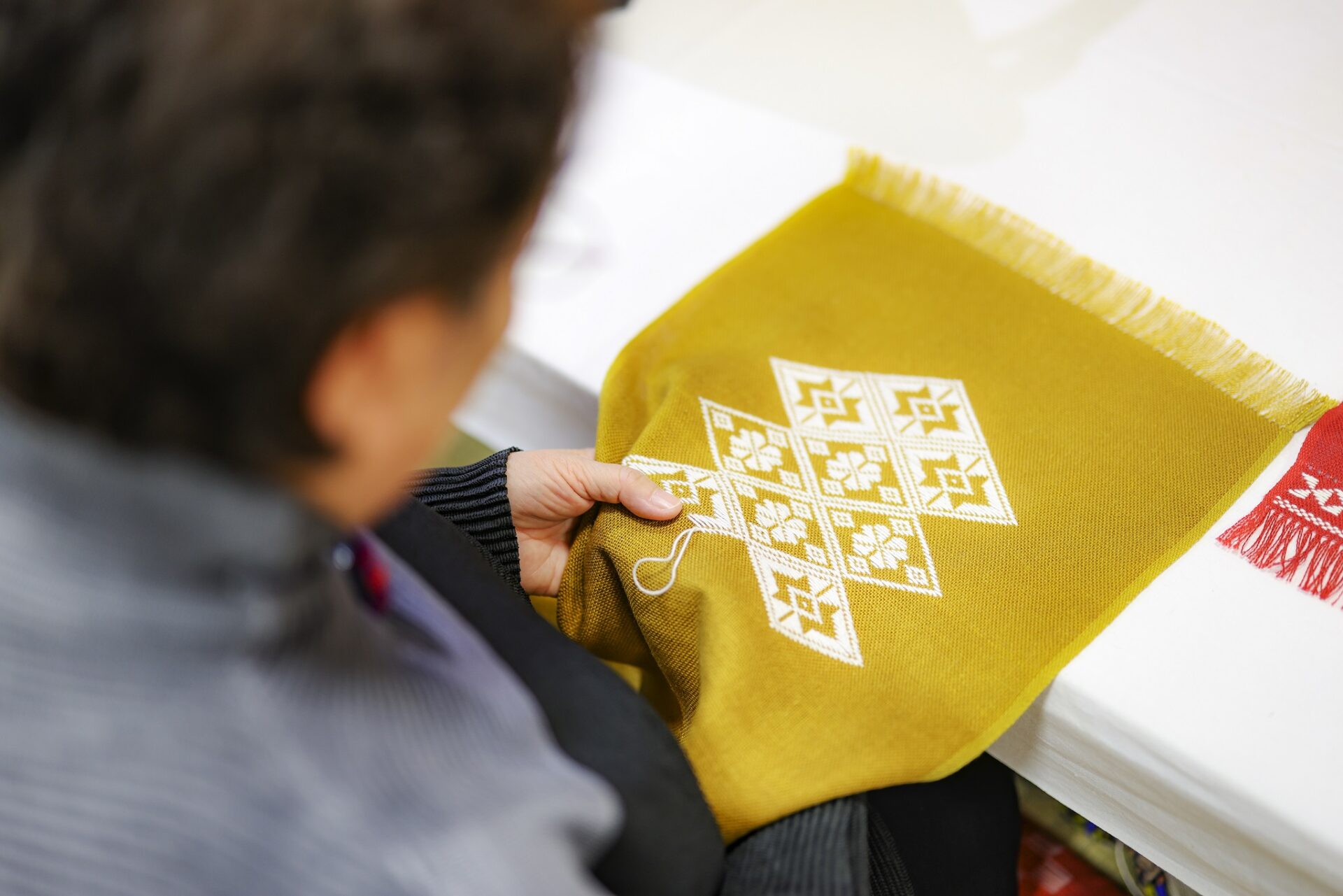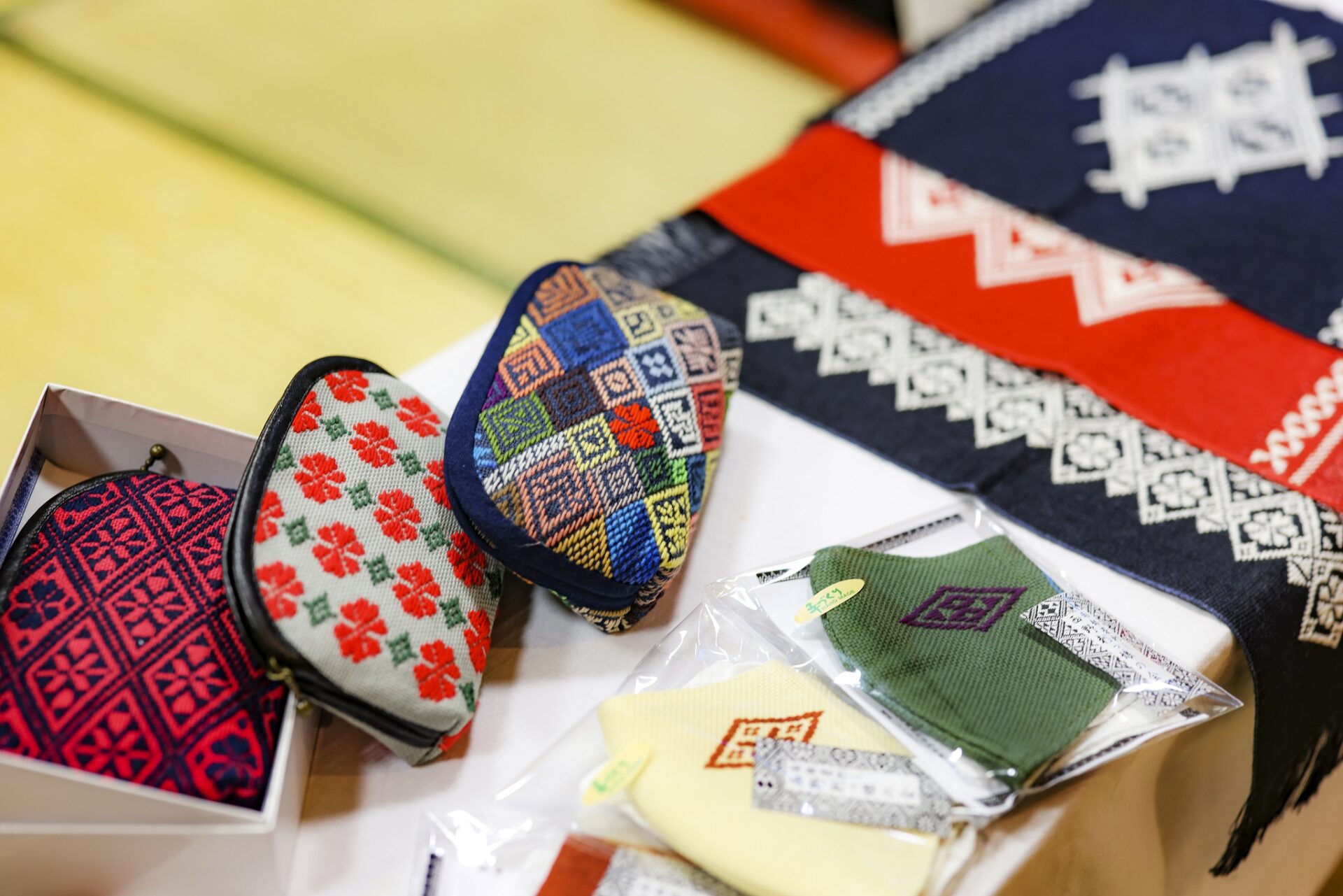 Masks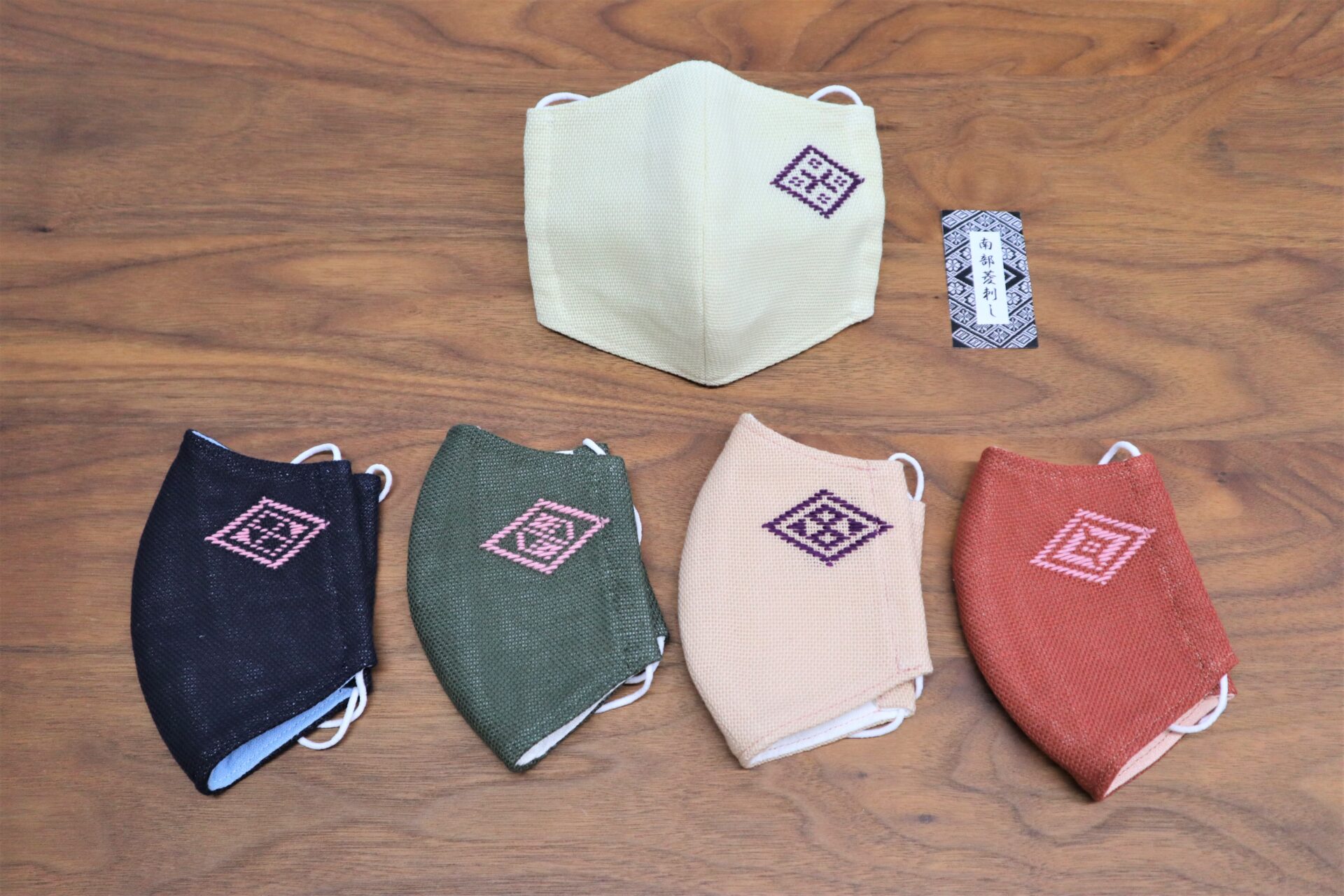 Lanyards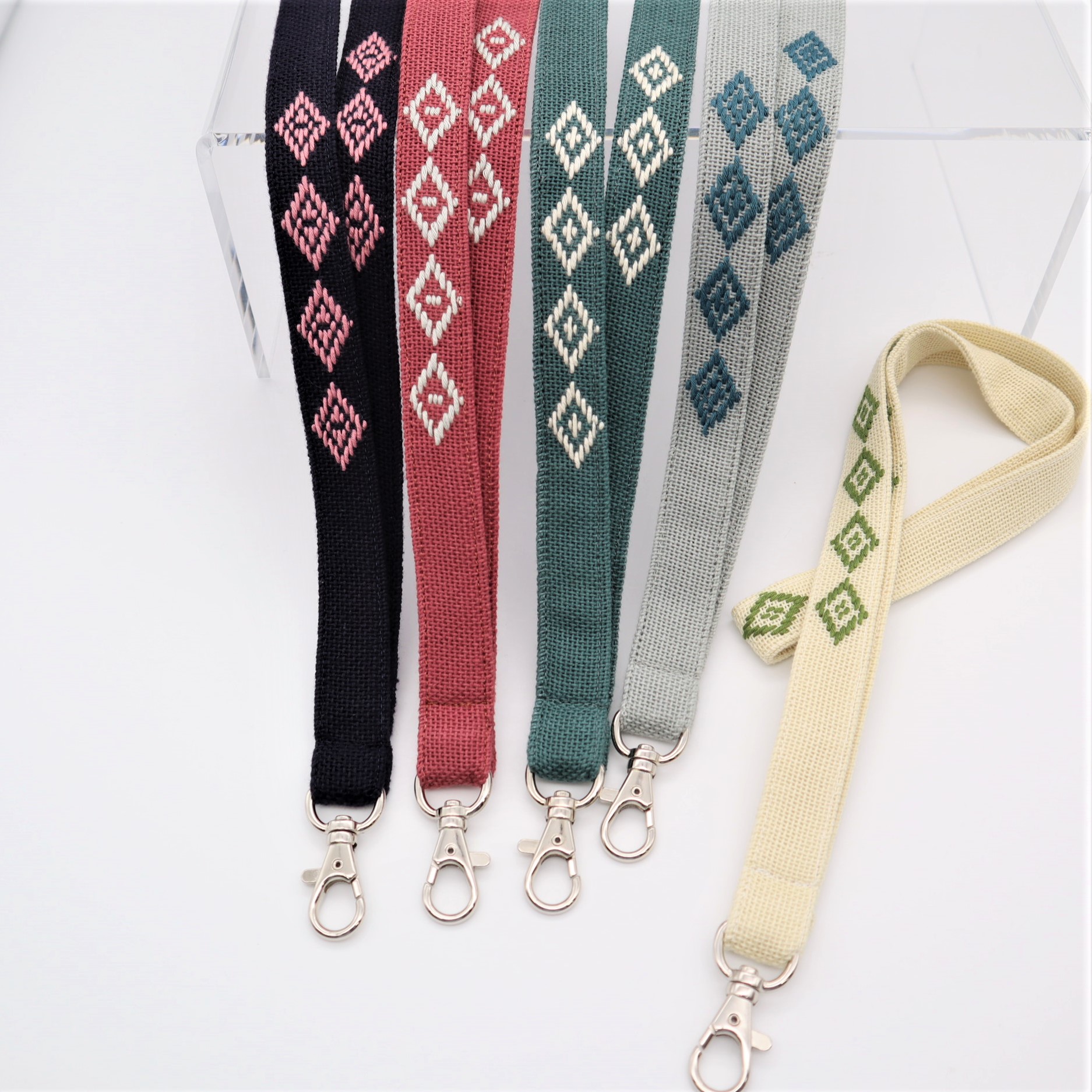 Decorate Your Own Hachinohe Yawata-Uma Horse
The traditional Hachinohe yawata-uma horse figurine is a craft that dates back more than 700 years. Also called 'Hachinohe horses,' the yawata-uma is one of Japan's Sankoma, the country's top-three traditional wooden horses. These horses are said to bring good luck and are often gifted to commemorate occasions such as weddings and opening ceremonies.
These horse figurines can be found all over the Hachinohe area, from road signs to temple grounds. Just as they were centuries ago, the horses remain one of Hachinohe's most popular and iconic souvenirs and can be purchased at most souvenir shops, like those found in the Hachinohe Portal Museum hacchi and the Youtree building next to Hachinohe Station. Yawatama-uma traditionally come in pairs, one black and one red, but nowadays, there is quite a range of styles to choose from.
There are also workshops available where you can decorate your own yawata-uma! The Nejo Castle Site offers a unique experience where you can paint and decorate yawata-uma figurines, creating a pair of horses that is uniquely yours. The workshop costs 1,500 yen and lasts about 30 minutes, making it a great activity to do with kids, as a couple, or on your own. At the end of the workshop, you will leave with two unique souvenirs with which to remember your visit to the Hachinohe area.
Book your slot to make a Yawata-uma here.