The Pagoda of Hoko-ji
Hoko-ji is a Buddhist temple that is located on the sacred mountain of Nakui. The temple was visited by Tokiyori Hōjō, the then regent of the Kamakura Shogunate, over 700 years ago. The temple is one of the premiers in the area and is counted among the three great Soto Buddhist temples of Oshu.

 

The construction of the Shoyo Pagoda began during the Meiji Period under the direction of the 30th abbot of the temple, a high-rank Zen monk named Bokuzan Nishiari. Construction continued until the pagoda was completed by the 37th abbot of the temple named Daiten Katsugan in the year 1949.

The pagoda stands 33 meters tall and has a length and width of 8m. It is the biggest 3 story pagoda made of wood in all of Japan. It was designated a national tangible cultural property in June 2017 and has since become a popular sightseeing destination. Every year at the beginning of May, during the celebration of Buddha's Birthday, the temple holds a children's parade (called

chigogyoretsu

in Japanese) which is truly a sight to see.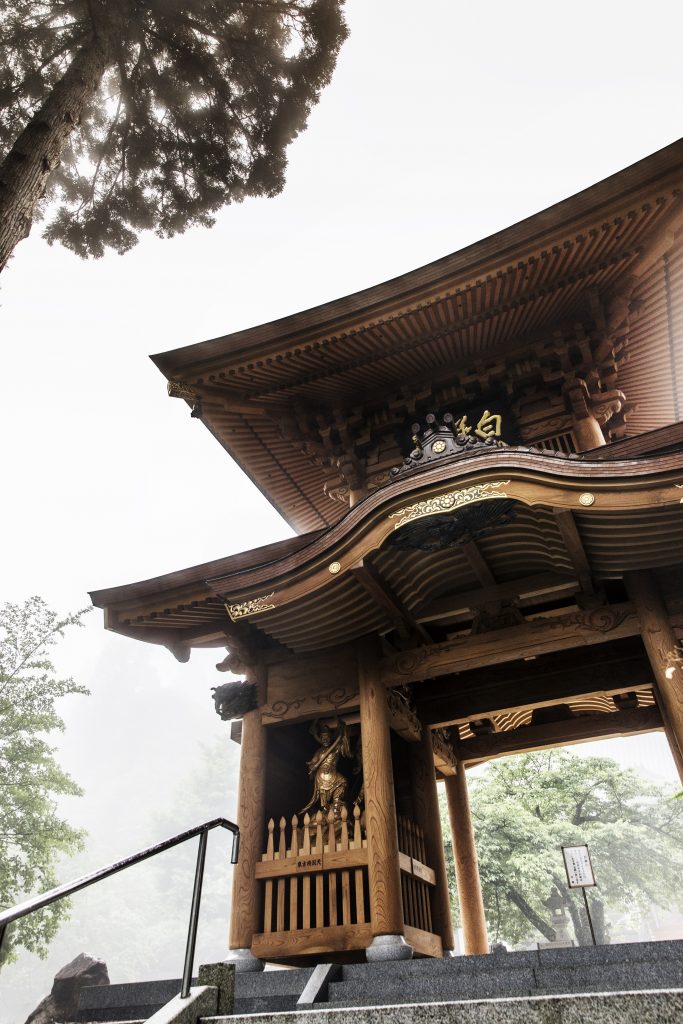 The Thousand Pines of Hoko-ji & the 'JiJi' Cedar Tree
 Hoko-Ji is a Buddhist temple that is located on the eastern base of Mt. Nakui. It is one of the most famous Buddhist temples in northern Japan.
Passing through the kuromon entrance to the temple, you will follow a path that is lined on both sides with ancient Japanese red pine trees. In 1958, 23 of these Japanese red pines lining the approach to the temple were granted the status of natural monuments by the prefecture. Then in 1983, the site was renamed 'The Thousand Pines of Hoko-Ji'  and selected as one of the hundred best pines in Japan.
If you continue down the pine-lined approach to the temple, you can see another prefectural designated natural monument amongst the pines: the ancient Jiji-sugi or 'Old Man Cedar'. This cedar tree is estimated to be a thousand years old. It reaches a height of 35 m (115ft), and the circumference of the trunk is about 8m (26ft), making it quite a stately tree.

The Jiji-sugi is particularly revered by the surrounding community because it is said to house a deity that watches over the land and protects the villages in the area. There is a legend that during the agrarian uprising of 1702 and 1778, people gathered around the 'Old Man Cedar' to perform prayers for protection, testifying the importance and significance of the tree to the area's history and people.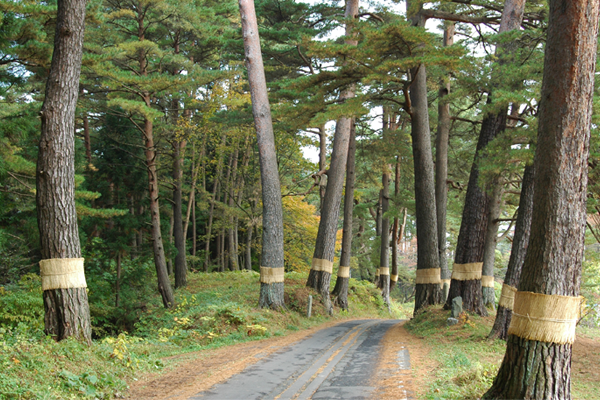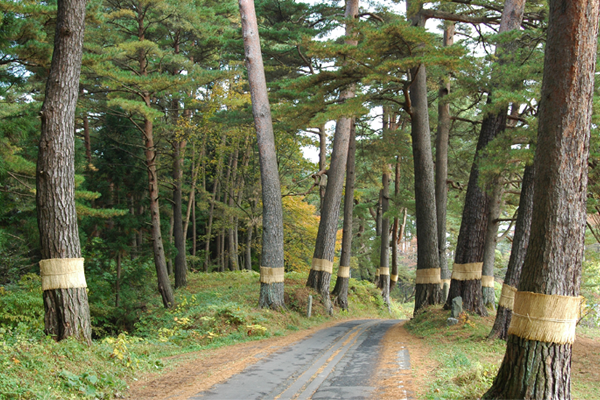 Information
Address:

20 Hōkōji, Nambu, Sannohe-gun, Aomori




Phone:

0178-76-2506

Open:

9:00~16:00

Closed:

(No Regular Holiday)
Open: Late April ~ Early November

Entrance Fee:

Adult 300 yen, Middle School & Younger 100 yen

Access:

By Car: 20 min from Kenyoshi Station

Parking:

Available