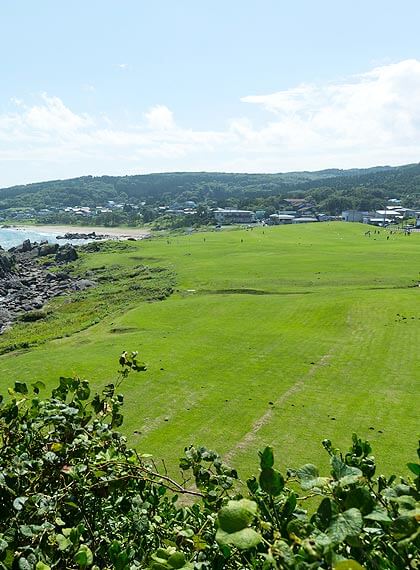 This article is #3 of 4 exploring the different areas of the Tanesashi Coast. It covers the area from the Yodo Pine Grove to the Tanesashi Natural Lawn. 

A Seaside Pine Grove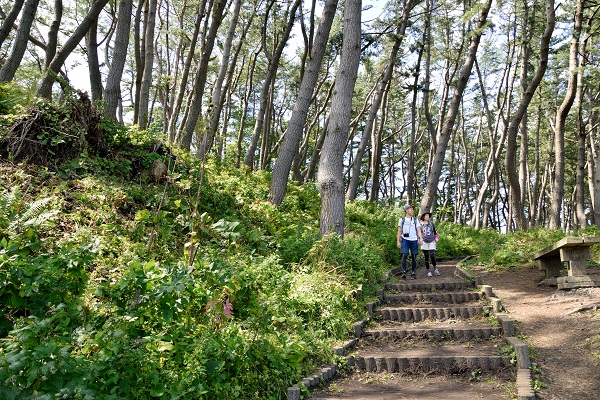 Continue along the Shirahama Beach from the Osukan Coast and leave the wide expanse of the sand. Pass the line of rugged rocks at Cape Tamura and the secluded fishing port of Fukakubo to Yodo-no-Matsubara, the Yodo Pine Grove. Here rows of 100-year-old pine trees stand before you as there branches sway in the sea salt wind. Glimpses of the rough coastline and the face of Shira-Iwa rock, whitened by the droppings of Japanese cormorants, peek through between the pines. Like an ink painting, it truly is a scene of Japanese beauty. A stroll along the hilly, tree-lined walking trail is invigorating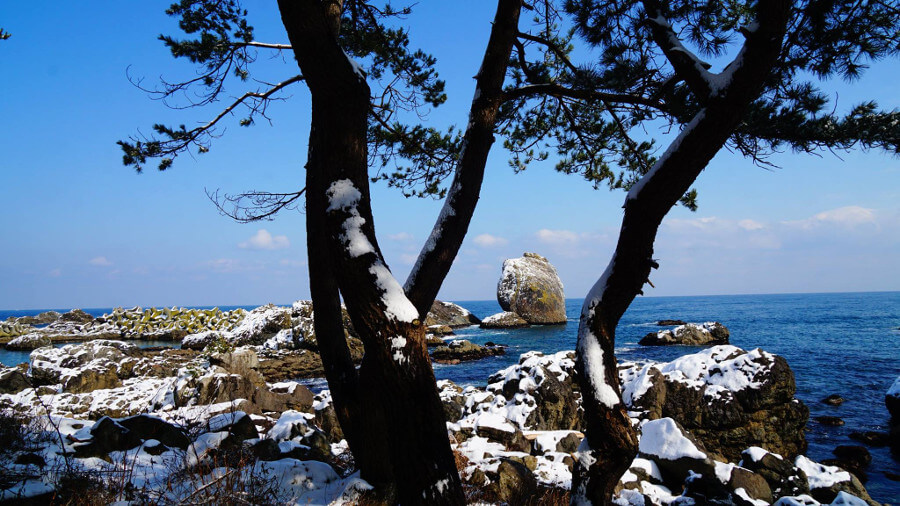 Covered in snow and catching glimpses of the Shira-Iwa Rock in the distance, the beautiful scenery is just like a scene from a Japanese ink painting.
The Tanesashi Natural Grass Lawn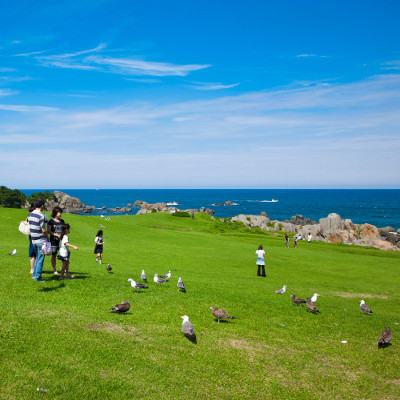 When you exit Yodo-no-Matsubara, the view opens up immediately. Before your eyes spreads a grassy area of gently undulating hills. This is the Tanesashi Natural Grass Area, the scenery that comes to mind when people think of the Tanesashi Coast. The contrast in the landscape between the rugged, rocky shoreline and the beautiful grass creates the exotic feeling of being on the Scottish coast. From early summer until autumn, seasonal flowers such as nikko-kisuge (day lily) and hamagiku (Nippon daisy) add color to the solid green expanse of grass.
You can forget the passing of time as you watch the ocean while listening to the sound of the waves. Feel the way being surrounded by the grass can soothe your five senses.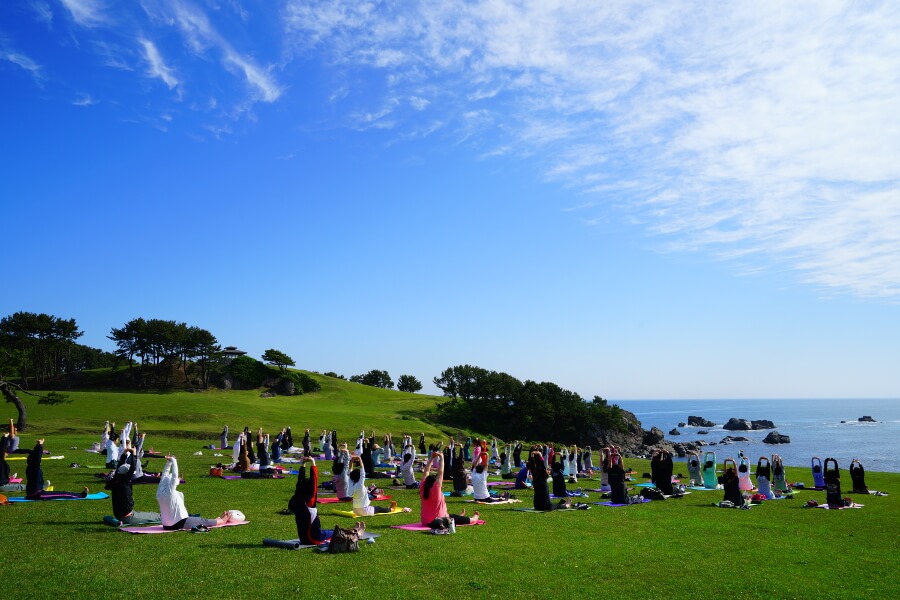 From May through to September, yoga sessions are held every Saturday morning on the Tanesashi Coast. Stretch and relax your body as you take in the beautiful natural scenery and listen to the waves crash in the distance. There is truly no better, more relaxing, or more refreshing way to start the day.
Learn about the Tanesashi Coast at the Info Center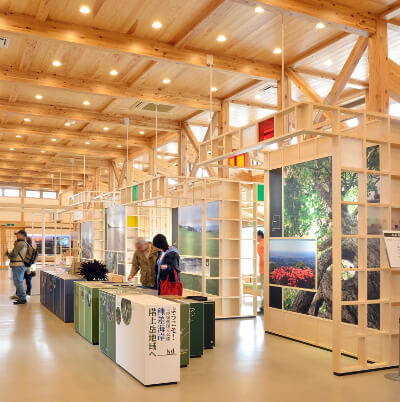 The Tanesashi Kaigan Information Center opened in July 2014. Learn about the Tanesashi Coast at the Sanriku Fukko National Park and the Tanesashi Coast base facility, where a variety of methods, including models and video, inform visitors about the area's unique terrain and plants The view of the Tanesashi Natural Grass Area from the open windows is spectacular.
When you get tired of outdoor walks, take a break at the Tanesashi Rest Area next to the Information Center. Tanesashi is a treat for the eyes and the body. Refresh yourself after all that walking with something from our menu that reflects the surrounding natural environment.
Access

Related Pages