【Notice】
Because of covid-19,
Morning Yoga 2021 will be canceled From August 21.
Relax your mind and body with a morning yoga session on the beautiful Tanesashi Coast.
Every Saturday morning from 7:00 AM, as the sun climbs higher in the sky, people begin to unroll their mats out on green grass as a breeze from the ocean cools the air. An instructor soon introduces themselves, and finally, Saturday Morning Yoga on the Tanesashi Natural Lawn begins.
This unique activity is a popular way to start the weekend for many people in Hachinohe. The yoga session takes place on the Tanesashi Natural Lawn, a place where soft, verdant grass spreads out upon rolling hills until it finally reaches the rocky shore of the Pacific. It is part of the Sanriku Fukko National Park and is known for its contrasting scenery of rich green, blues, and whites. This slice of serene nature is the perfect spot to relax and refresh, take park in one of the country's most unique yoga experiences. 
The friendly instructors change weekly, and the sessions are conducted so that everyone and anyone can join. Beginners and even more advance yoga practitioners can enjoy the experience at their own pace. Moring yoga is popular with many of both the men and women of Hachinohe as a stress-relieving activity after a long hard work weak and with weary travelers looking to stretch and relieve their bodies worn down by traveling. 
Saturday Morning is held every morning from late May until the end of September and costs 500 yen per person (plus an extra 100 yen if you would like to rent a yoga mat). For more information see the Morning Yoga's Facebook.
Information
Schedule

5/29/2021 ~ 9/26/2021 (Every Saturday)
and 6/27 7/25 8/22 9/26

Fee

500 yen
plus an extra 100 yen if you would like to rent a yoga mat

Address

Parking 

68 spaces
After a yoga session by the shore, treat yourself to a picnic breakfast on the lawn!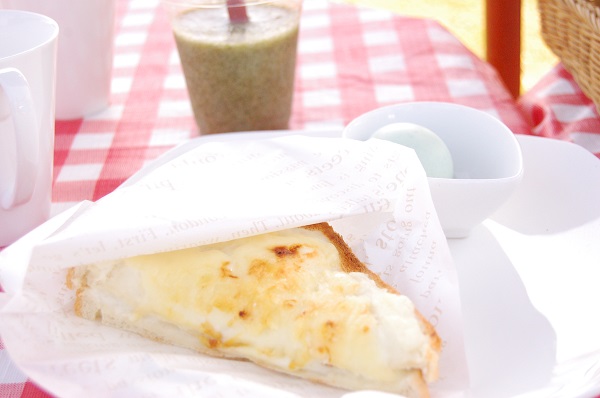 If after the morning yoga you are not quite ready to leave the beautiful coast, treat yourself to a picnic breakfast on the lawn. 
The local tour company AC Promote offers a great program where after you finish yoga, you can continue to enjoy the area while relaxing in style. Sit back and feast on a hearty meal that includes pastries, sandwiches, soup, salad, fruit, dessert, and more! All of this is served on a decked-out table set up on the lawn, so you can gaze out over the green grass and crashing waves as you enjoy a breakfast almost as good as the scenery.  
Continue Your Morning with a Hike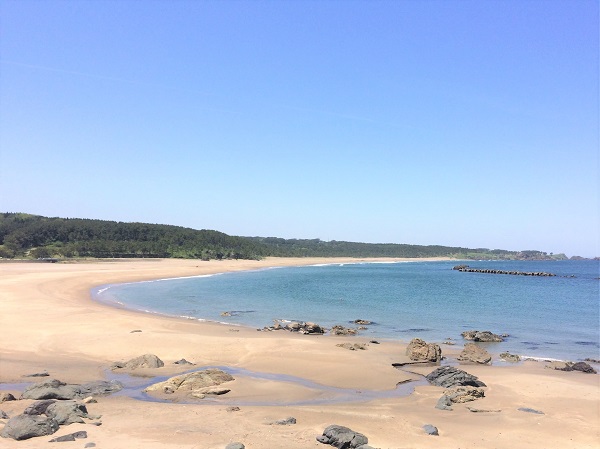 Complete your morning on the Tanesashi Coast with another tour by AC Promote. After filling up on delicious breakfast, the company also offers a tour during which walk off your indulgence with a short 1.2 km hike.
The guided hike starts at the Shirahama swimming beach, which has great views of a long beach line ending at the Same Kado Light House and Ashigezaki Overlook.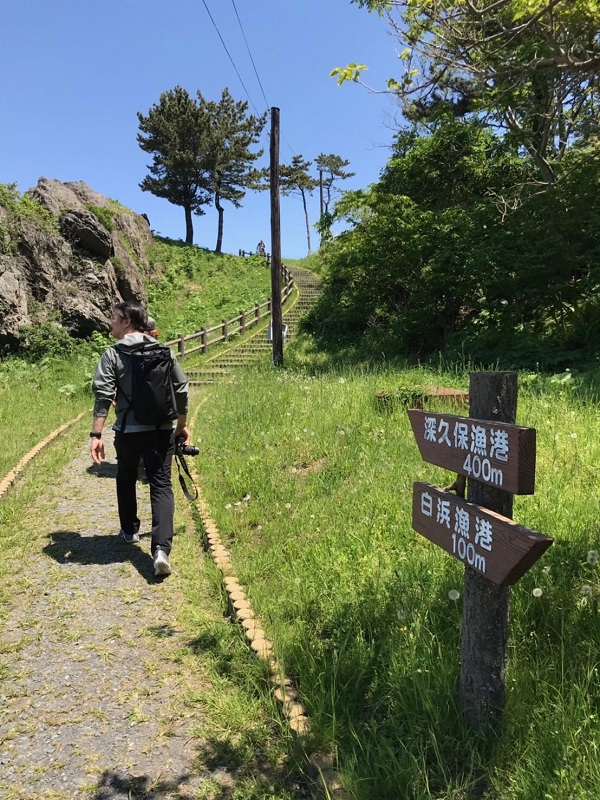 Hiking back towards the Natural Lawn, you will be following the Michinoku Shiokaze Trail. This trail runs the length of the whole Sanriku Fukko National Park, an impressive 1,000 km.  Along the trail, there are markers and signs, but in some places, it may be hard to find the right way to go.
If you are considering hiking the trail without AC Promote, we recommend picking up one of the pamphlets or maps that the Tanesashi Coast Info Center provides. They are easy to understand and a great tool during any hike.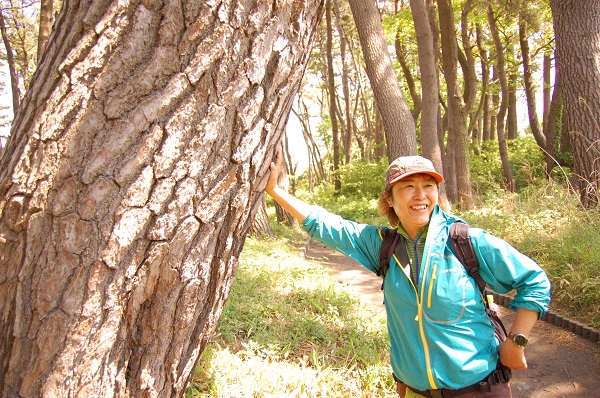 The above picture is of Machita-San one of AC Promote's knowledgeable guides.
Machita-San was born in Osaka, but she is more passionate and knows more about the Tanesashi Coast than anyone we know! Full of explanations and quirky stories about the coastline and its history, she is simply an amazing guide.
For example, she informed us that the tree that she is touching in the photograph is said to be the oldest in the forest and that if you touch it, 30 years will be added to your life. Crazy, right?
Don't forget to stop by the Tanesashi Information Center and Café!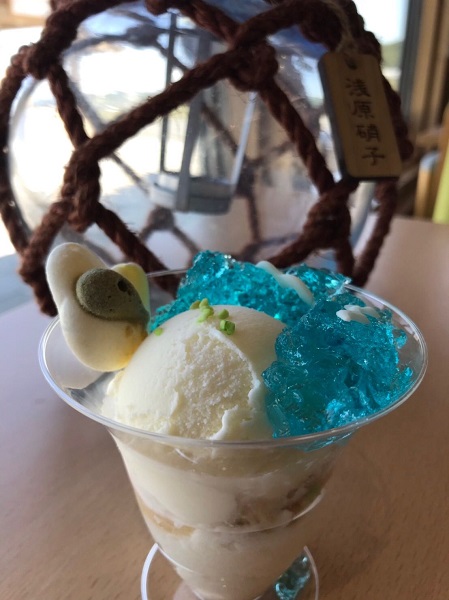 After hiking along the Michinoku Shiokaze Trail you will end up back at the Tanesashi Natural Lawn.  Once your hike is over though, don't forget to replenish your energy by treating yourself to something sweet!
The Tanesashi Coast Rest Station & Cafe is located right next to the  Tanesashi Coast Information Center and is home to a quaint café. The Umi (Ocean) Café Tanesashi has a creative menu with interesting food and drink options, but we recommend the Tanesashi Sundae in particular. The sundae has a jelly topping made with a local soda called Mishima cider making it a refreshing treat.
If you're looking for something to take home, we recommended the Umineko Bakudan. These treats are interestingly shaped meringues that come in boxes shaped like Hachinohe city's official bird, the black-tailed gull. The treat's name directly translates to Black-Tailed Gull's Bombs, and if you observe the packaging and from where the treats are taken out from, we are sure you can guess what the 'bomb' portion is referring to.