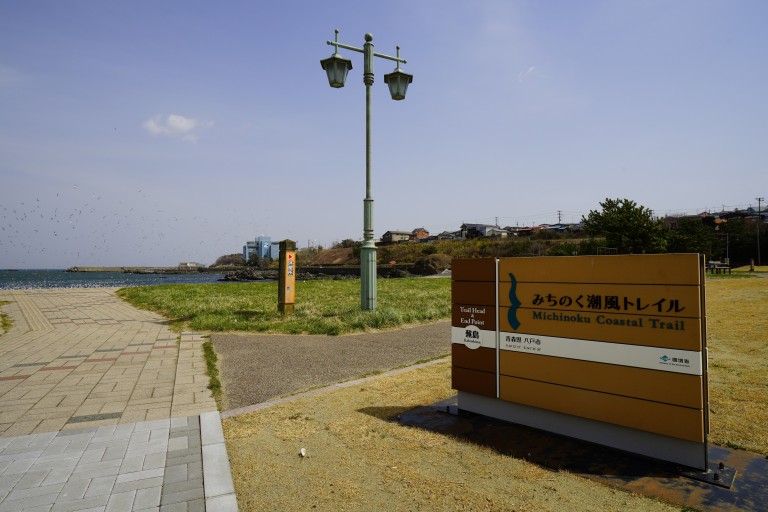 Tohoku's Pacific Ocean coast suffered a great deal of damage during the 2011 earthquake and tsunami disaster. The Michinoku Shiokaze Trail is being developed as a symbol of the area's recovery. It has a total length of  1,000 km and links Kabushima Island in Hachinohe City, Aomori to Matsugawaura in Soma City, Fukushima prefecture.
The trail is a 'road' for walking. By traveling at walking speed along a diverse terrain of coastline and villages to places along the road, visitors come into contact with the lives of the local people and the ways of nature as well as the area's history and culture. Discovering the region's warm hospitality is the trail's greatest attraction.
Kabushima, in Hachinohe, is the northernmost point of the Michinoku Shiokaze Trail. A monument marking the trailhead and endpoint has been set up on the island. Set off from Kabushima on a journey to experience the bonds between people and the connection between humans and nature.
Michinoku Shiokaze Trail's Official Website (Ministry of the Environment)
Collect stamps along the trial to receive your own set of original pins!
Different facilities stationed along the trail between the portion that runs from Hachinohe City to Fudai Village in Iwate are equipped with special stamps that visitors can collect. If you collect all the stamps on the sheet provided and show the staff at one of the participating facilities you can get a set of original pins/badges and a certificate saying you completed the course. (Pins cost 800 yen upon completion of the stamp form).
For more information see the link for the Michinoku Shiokaze Trail Official Website