The Sanriku Reconstruction National Park and Tanesashi Coast offer a variety of sights to behold: the breeding grounds of black-tailed gulls, reefs, sandy beaches, natural grass areas, and so much more! By taking advantage of the Umineko sightseeing bus, but still walking portions of the Tanesashi Coast, you can easily experience all the coast has to offer.
When to Visit:

◎April to July (when Kabushima is full of black-tailed gulls)
◎Late May to October (when Tanesashi Natural Grass Area is green and beautiful)
◎Mid-June to mid-July (for viewing flowers around the Ashigezaki Scenic Overlook, in Nakasuka, etc.)
Estimated Time Required (ETR):

4+ hours
Itinerary
Hachinohe Station / Hon-Hachinohe Station (downtown)
Take the Hachinohe Line (10 to 20 minutes) to the 
Same Station
15-minute walk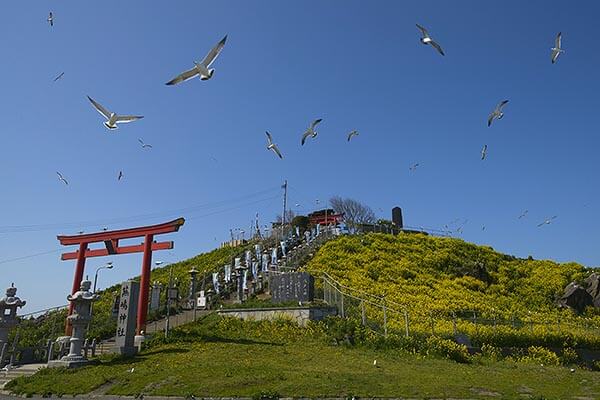 ETR: 30 minutes
Observe black-tailed gulls nurturing their young from up close, then boost your good luck by praying at the Kabushima Shrine. 
◎ Public restrooms are available at the Kabushima Rest Area and near the parking lot 
◎ Free Wifi is available at the Rest Area
◎ Parking: Available
Walk
Get on the Umineko 100 yen bust at the Kabushima Kaihin Koen Bus Stop
Ride the Umineko bus for 10 minutes
Get off at Ashigezaki Tenbodai Bus Stop
Short walk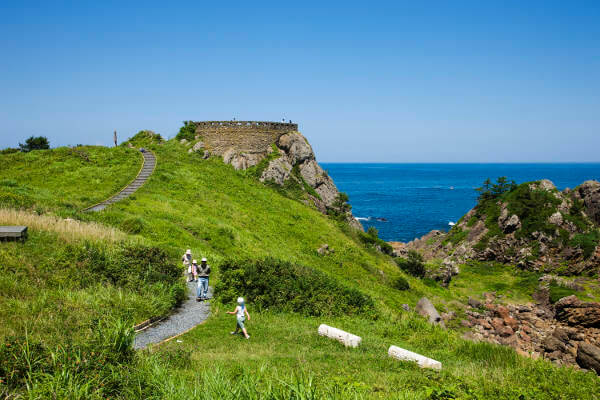 ETR: 20 minutes
This scenic overlook was used as a military facility during wartimes. Take in a view of the Pacific Ocean while enjoying soft-serve ice cream available at the cafe next to the parking area.

◎ Public Restrooms Available


5-minute walk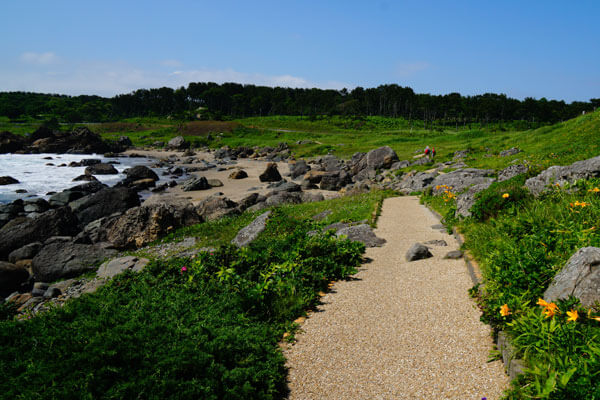 20-minute walk
Nakasuka is one of the most beautiful spots on the coast, and it is also referred to as "Hana no Nagisa" (Shore of Flowers). Here, not only beautiful seaside plants but alpine flora too bloom all along the walking trail.
20-minute walk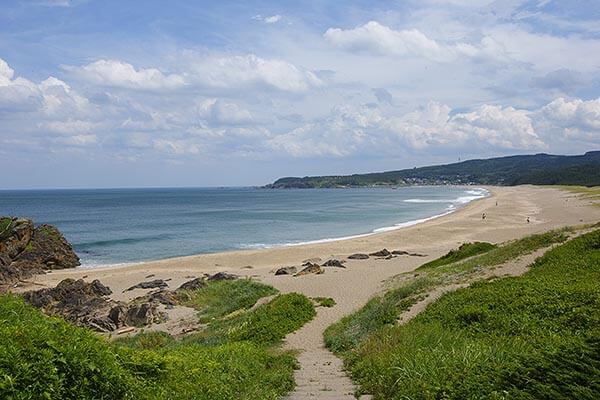 ETR: 20 minutes
This long stretch of beach features "singing sand", sand that seems to sing or squeak when you step on it. The sandy beach and the sounds of the waves are said to give one a sense of deep relaxation.


Short walk
Get on the Umineko bus at the Osuka Beach Bus Stop
Ride Tanesashi Kaigan Sightseeing Bus Umineko for 12 minutes
Get off at the bus at the Tanesashi Coast Information Center Bus Stop
Short walk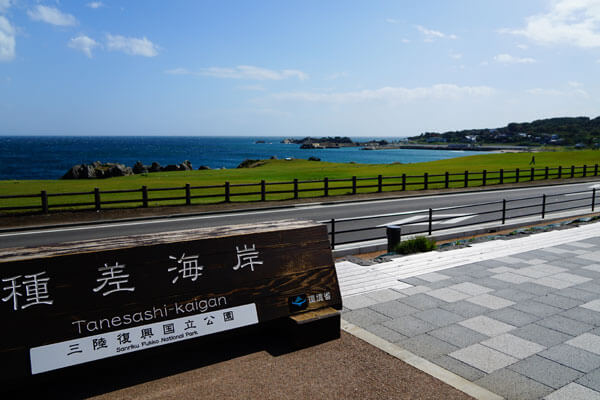 ETR: 30+ minutes
The view of the vast greenery along the coast is like no other. Enjoy the view to your heart's content while resting at the Tanesashi Coast Information Center.
◎Dinning & Souvenier Shopping available at the Tanesashi Rest Center and surrounding restaurants 
◎Public Restrooms Available 
◎Free Wifi Available in the Tanesashi Rest Center 
◎Parking Available 
Get back on the bus at the Tanesashi Coast Information Center Bus Stop
Ride the Umineko bus for 28 minutes to return to the 
Same Station
Ride the JR Hachinohe Line (10 to 20 minutes) back to the 
Hachinohe Station / Hon-Hachinohe Station (downtown)
Remarks
◎ Try some Tanesashi delicacies at the restaurants that are located around the Tanesashi Natural Lawn while in the area. Dishes such as nama-uni-don (fresh sea urchin rice bowl), uni-don (steamed sea urchin cooked with egg), and iso ramen (seafood ramen) are great local specialties that are delicious.
◎ A few minshuku (Japanese style bed and breakfast) are located right next to the Tanesashi Natural Lawn. Staying overnight in one of these facilities is a great experience, and in the morning after a hardy traditional Japanese breakfast, you will be able to explore the grassy terrain all by yourself before other tourists arrive?
◎Rent-a-cycles equipped with battery assistance and GPS are also available and make touring the coast very easy and convenient. 
About Cycling the Tanesashi Coast