Hachinohe's Kitchen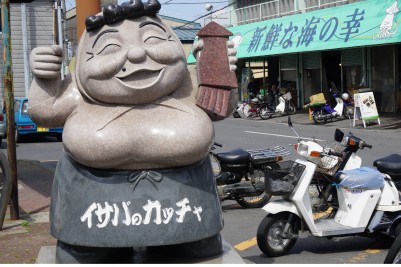 The Mutsuminato Station Morning Market has been a fixture and beloved gathering space for the people of Hachinohe since the post-WWII era. Affectionately called 'the Kitchen of Hachinohe' this market is filled with fresh fish and the smiles of old women. Heads covered in handkerchiefs and baskets on their backs, the elderly women who run the stalls of the market and who shop there are one of the symbols of Hachinohe and its culture. They are so iconic that they have their own special name, isaba-no-kaccha (lit. market mothers), and there is a statue to commemorate them that sits out in front of the market.
The street between the market and the station is lined with a variety of shops and wholesalers. Buyers from restaurants, locals looking for fresh fish, visitors enjoying the rough and real atmosphere, and of course the archetypical grandma with her woven basket can all be found bustling around together in the market. Active, fresh and lively, there is no better way to start the day bright and early in Hachinohe.
Make Your Own Breakfast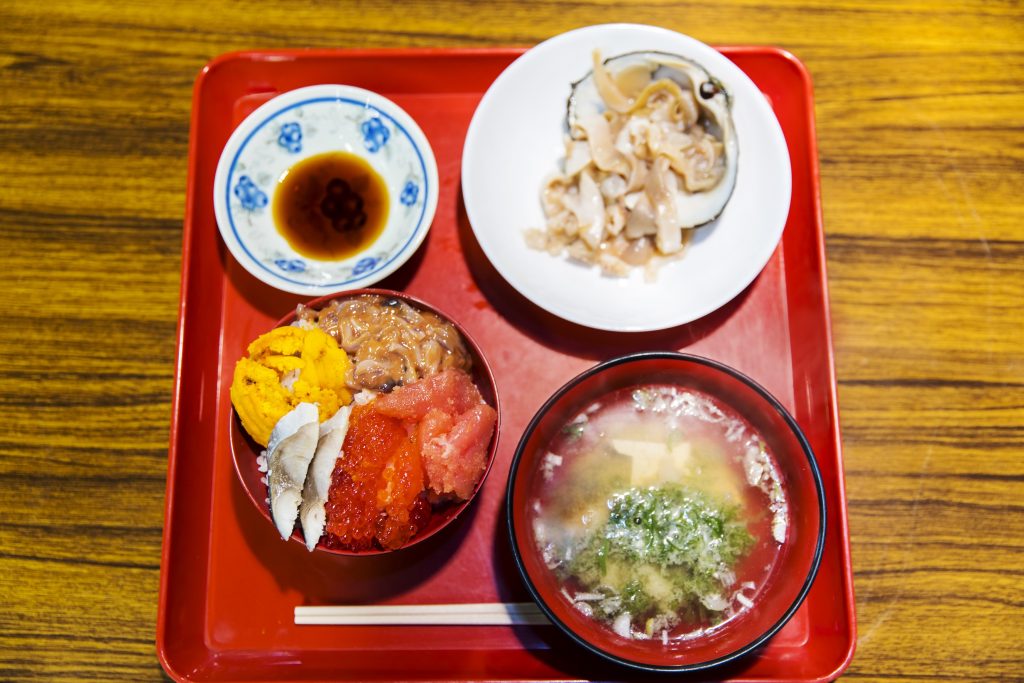 One of the best things about coming to the Mutsuminato Station Morning Market early in the morning is that you can make your own sushi bowl breakfast with some of the freshest fish around. From slices of sashimi to side dishes and grilled fish, you can walk through the stalls to pick out exactly what you want to eat. After that,  head over to the counter and seating area in the back of the market and get a bowl of rice and miso soup to start your breakfast off right. Once at the table, place your chosen slices of fish and other toppings on top of your rice bowl. Many people try and stylize their fish slices to make a fresh and unique breakfast, while other more hungry patrons just simply throw the fish on and dig in. The fish and types of miso soup available change day by day and season by season, so every t visit to the market is a new experience. 
Great seafood at a market that has such a strong and unique character makes this one of the best breakfast spots in the whole prefecture.   
Information about the Hachinohe City Seafood and Vegetable Retail Market
» Information about the Hachinohe City Seafood and Vegetable Retail Market
How to make your own Sushi Breakfast in 10 Easy Steps

●Step 1 Go to the Mutsuminato Station Market on a weekday or Saturday (Note: The market is closed on 2nd Sat of month) between 5:00~10:00 AM
●Step 2 Walk around the stalls and choose your slices of raw fish and side dishes.
●Step 3 The fish is quite cheap so make sure you don't get too excited and buy too much. Its great to go in a group and then share amongst yourselves.
●Step 4 If you buy any fish roe, try asking for just a 100 yens worth by say 'Hyaku En Bun Choudai', you'll sound like a pro.
●Step 5 Try chatting with the isaba-no-kaccha or market grandmas, it's a great way to gain a discount or two.
●Step 6 Head to the counter and seating area in the back of the market, there buy your rice and miso soup.
●Step 7 Make sure to check out the different types of miso soup available, usually the soup changes day to day and features seasonal items.
●Step 8 After checking there isn't any grilled fish you want to try either, head to one of the tables and start to arrange your slices of raw fish and other ingredients on top of your bow.
●Step 9 After you have finished arranging your bowl, dig in! Make sure you eat all of the ingredients you have taken though.
●Step 10 After you have finished all of your meal, enjoy coffee or a local cider from one of the vendors in the market.
Information
Address:

Kubo-38-1 Minatomachi, Hachinohe, Aomori 031-0812 (directly in front of the Mutsuminato Station) 




Phone Number:

0178-33-6151(The Hachinohe City Seafood and Vegetable Retail Market)

Opening Hours:

 Monday ~ Saturday (Closed every 2nd Saturday)
3:00〜12:00(Breakfast is served until around 10)

Closed:

Sundays, New Year's Holiday Period, every 2nd Sunday of the Mont

Access:

By car: 20 minutes from Hachinohe Expressway, Hachinohe IC, 25 minutes from JR Hachinohe Station, 10 minutes from downtown Hachinohe
By train: Near JR Hachinohe Line Mutsuminato Station
Bus: Hachinohe City Bus / Nanbu Bus – 3-minute walk from the "Kaminakamichi" bus stop

Parking:

 None(Paid parking located nearby)