Located on the small street that runs straight out from the JR Sannohe Station in Nanbu, the Takebayashi Senbei Shop has an unassuming exterior that keeps hidden an amazing local find. 
With just enough room to walk in and stand, visitors to the shop will be welcomed with an irasshaimasei from the owners and the sight of stacks of nanbu senbei in tin boxes with glass panels so you can see all the different kinds. Run by a married couple, he expertly works the iron molds and dough to make delicious crackers, while she carefully packages them for sale. For over fifty years, the scent of fresh-made wheat senbei has wafted down the street from their shop.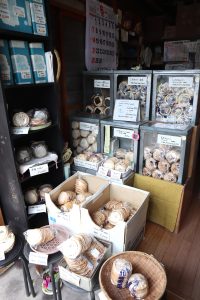 The nanbu senbei from the Takebayashi shop have a devoted following, and the crackers are known for their old-fashioned style complete with a thin crispness. But as times and people's tastes have changed over the years, the owners of Takebayashi have adapted. Along with their classic styles and flavors of nanbu senbei, the store has been innovative in pursuing new senbei flavors. 
From savory flavors like pine nuts, cheese, and even katsuobushi, to sweet flavors like chocolate, cinnamon, and honey with black sugar, the Takebayashi Senbei Shop has a range of rare and interesting flavors not seen in other shops. Sometimes even seasonal specialties are available, like sansho (Japanese pepper) which has a citrus and herbal spiciness to it. 
A trip to the Takebayashi Senbei Shop is a great way to experience a part of local Nanbu culture, and its location right down the street from Nanbu Doki Cafe and the Sannohe Station makes it a convenient stop on any trip to the area. 
Information
Address:

Kanyoshi-48-24 Omukai, Nambu, Aomori 




Phone:

0179-22-2571

Open:

7:00~19:30

(The store has no set 'closed' days, and usually remains open, but closes intermittently) 

Access: 

By Car: 30 min from Hachinohe Station

By Train: 2 min walk from the JR Sannohe Station