The Sunday Morning Market Loop Bus ISABA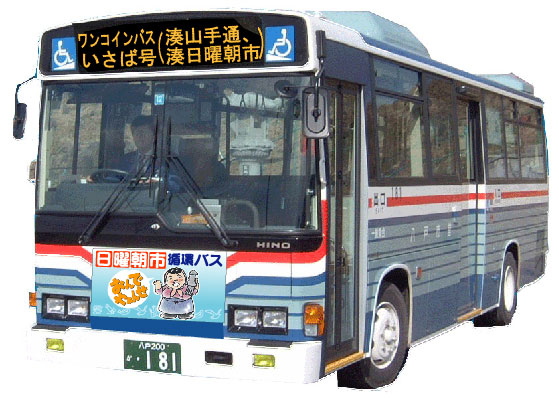 The Sunday Morning Market loop bus Isaba connects the downtown area of Hachinohe City to Japan's biggest morning market every Sunday. Avoid the crowds of eager market-goers that clog the parking lot of the market by using this convenient and affordable bus that will take you right from downtown to the market for only 100 yen.
»For more information about the Sunday Morning Market, click here.
2021 Schedule
【Operation Period】 Every Sunday between 4/4~12/26
        
【Frequency】 4 Times per Sunday »  (see time table below) 
        ※The 5:55 bus from downtown is usually quite busy, we recommend taking the one that leaves 10 minutes later (6:05) 
【Fee】 Adults 100 yen・Children 50 yen
Route Map for the ISABA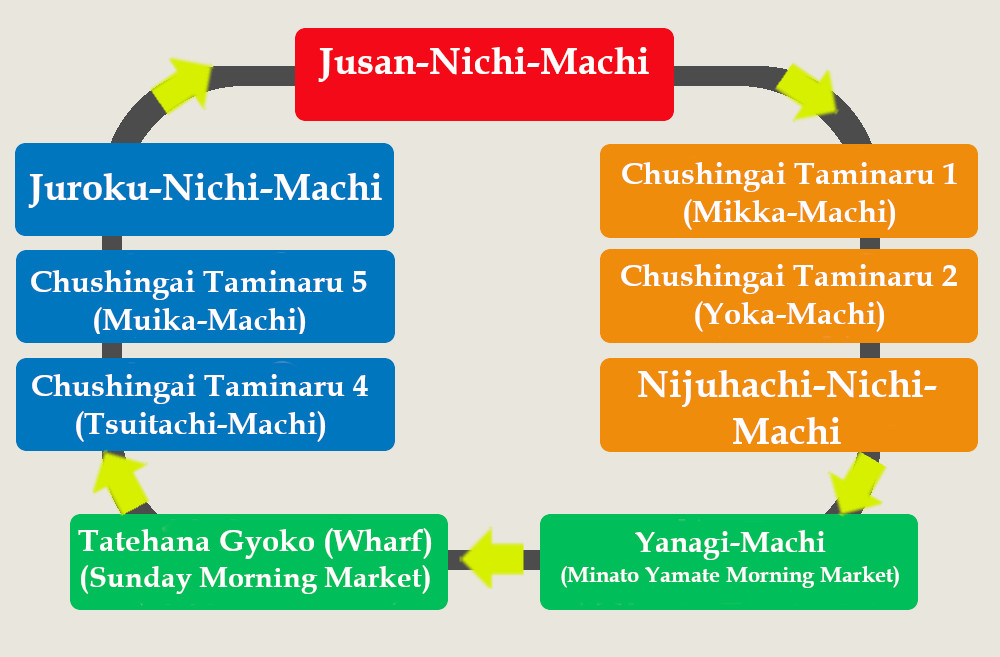 The bus takes about 15 minutes to get from downtown Hachinohe to the Sunday Morning Market
● Yanagi Machi  Years ago the closest stop to the morning market was the Minato Yamate Street Stop. Vendors began to set up stall here as well for customers making their way to the market, and even now around 50 stalls set up every week. A small market used by mostly locals, stop by this market on the way to the main morning market to enjoy the more local atmosphere.
» More about the Minato Yamate Morning Market
● The Tatehana Wharf  Spanning 800 meters, and lined with 300 shops, the Sunday Morning Market at the Tatehana Wharf is Japan's biggest morning market. Get off at the Tatehana Wharf bus stop for easy access to this bustling market, and join the tens of thousands of people that visit the market weekly.
» More about the Tatehana Wharf Sunday Morning Market
●Downtown: The ISABA bus stops at 6 stops in the downtown, or chushingai, area of Hachinohe: Jusan-nichi-machi, Juroku-nichi-machi, Nujuhachi-nichi-machi, and Hachinohe Chuchingai taminaru 1,2,4 &5. The downtown area of Hachinohe is home to many of the city's hotels as well as dining and entertainment establishments making it a convenient area for visitors. It is a ten-minute walk from the nearest train station (Hon-Hachinohe Station).
Note: Several of the streets running through downtown are one-way, making the leaving and returning bus stops for the morning market different. 
» List of Accommodations in Hachinohe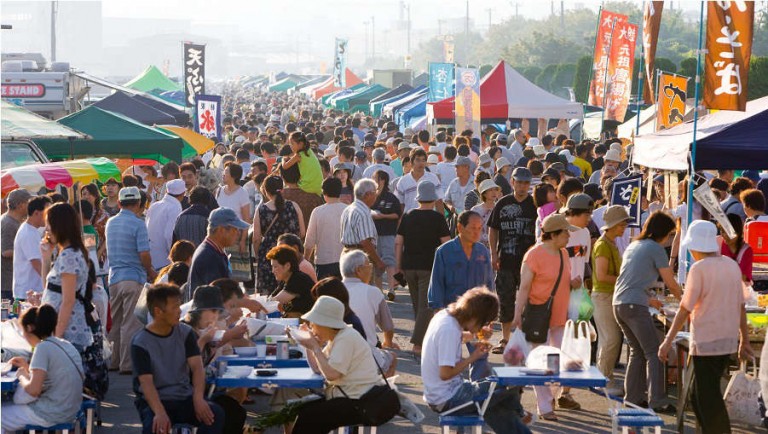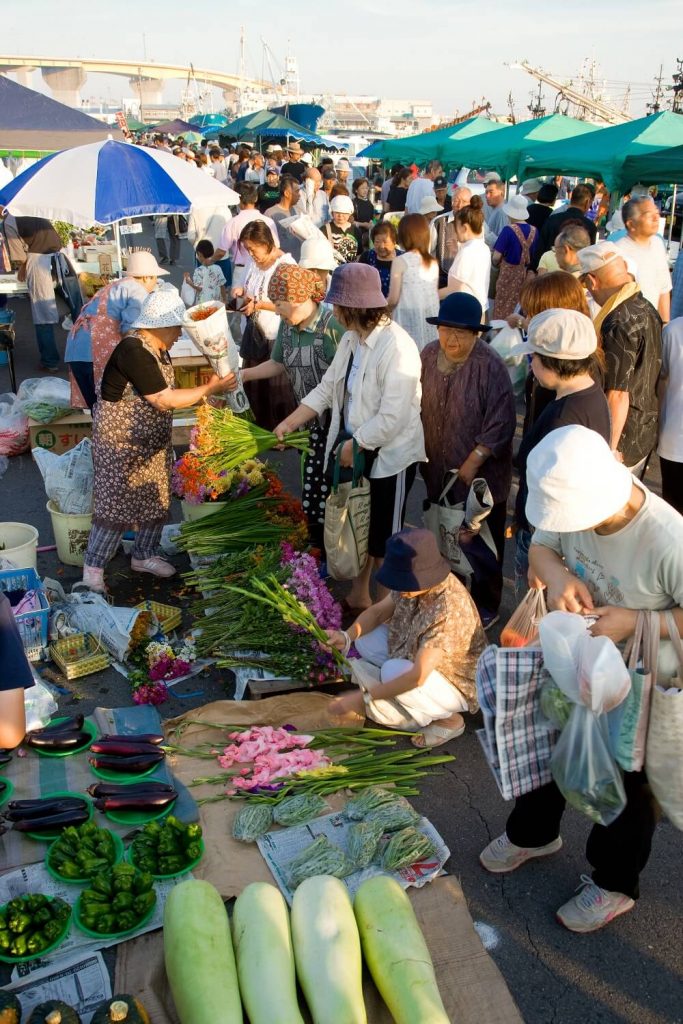 Map of Bus Stops in Downtown Hachinohe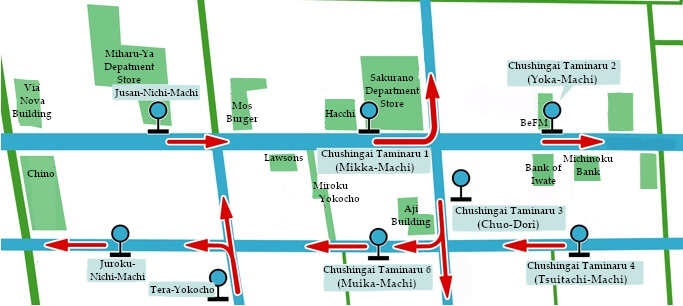 2019 Timetable for the ISABA Bus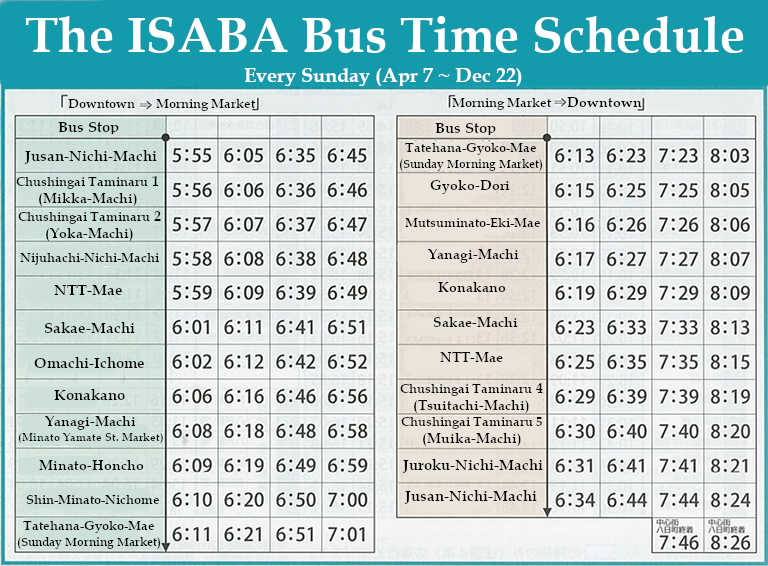 ※The 5:55 bus from downtown is usually quite busy, we recommend taking the one that leaves 10 minutes later (6:05)