D = Dosai-enburi N = Naga-enburi
February 17
All Enburi groups

●Dedicatory Suri Dance
Choja Shinra Shrine From 7:00 AM
Enburi groups that have finished their dances move to Chojasan Matsuringu Square and perform with musical accompaniment until the time of the Enburi Procession.
» Chojasan Shinra-jinja Shrine

Sainokami(D)・Nakaibayashi (N)

●Enburi Photo Session
Choja Shinra Shrine 8:00 AM-9:00 AM
» Chojasan Shinra-jinja Shrine

All Enburi groups

●Enburi Procession ・ Simultaneous Suri Dancing・ Prayers
Downtown Hachinohe
Enburi Procession 10:00 AM Starting from Kajicho
Traffic restricted From 9:30 AM (Kajicho-Dori Street)
Simultaneous Suri Dancing 10:40-11:20 AM (Jusannichimachi ・ Mikkamachi ・ Muikamachi ・ Yagura-yokocho)
Prayers After the End of the Procession at Miyagi-jinja Shrine
Traffic restricted 10:20-11:40 AM

Nakacho (D)

●Gozen Enburi
At the public square in front of Hachinohe City Hall from 12:15 PM

(1) Hibakari(D)
(2) Children's Enburi (Nakaibayashi Elementary School (D)), Seicho Elementary School (D))
(3) Ishido(N)

●Enburi Performances(Fee required)
Hachinohe City Public Hall 1:00-3:30 PM (scheduled finish)
» Hachinohe City Public Hall

From
6:00 PM City Office (D)
7:00 PM Shiketi (N)
8:00 PM Kushihiki-Kami (D)

●Kagaribi (Bonfire) Enburi
At the public square in front of Hachinohe City Hall
6:00 PM,
7:00 PM and 8:00 PM

Hiranai (N)
Nakacho (D)

●Oniwa Enburi(Fee required / Reservation required)
Kojokaku From 4:00 PM, 6:00 PM and 8:00 PM
» Kojokaku
February 18
11:00 AM-12:00 Noon Uruichi (D)

●Nejo Castle Ruins Enburi Photo Session(Admission Fee: 250 JPY)
Nejo Castle Historical Site
» Nejo Castle Historical Site

(1) Yokocho(N)
(2) Children's Enburi (Hakuo Elementary School (D), Hokuryo Junior High School (D)
(3) Konakano (D)

●Enburi Performances(Fee required)
Hachinohe City Public Hall 1:00-3:30 PM (scheduled finish)
» Hachinohe City Public Hall

Nakamachi (D)
Simultaneous Suri Dancing by 5 groups (Kamikumicho (D), Tashiro(D), Toyabe (D), Araya (D), Fukuda-kami (D))

●Kagaribi Enburi
At the public square in front of Hachinohe City Hall from 6:00 PM and 7:30 PM

Nukazuka(D)
Uruichi (N)

●Oniwa Enburi(Fee required / Reservation required)
Kojokaku From 4:00 PM, 6:00 PM and 8:00 PM
» Kojokaku
February 19
11:00 AM-12:00 PM Shiocho (N)

●Nejo Castle Ruins Enburi Photo Session(Admission Fee: 250 JPY)
Nejo Castle Historical Site
» Nejo Castle Historical Site 

From 1:00 PM Jobancho(D)
From 2:00 PM Uruichi(N)

●Enburi Open Performances
At the public square in front of Hachinohe City Hall from 1:00 PM and 2:00 PM
From 1:00 PM Jobancho(D)
From 2:00 PM Uruichi(N)

From 6:00 PM Yamamichi(D)
From 7:00 PM Higashi-Tokaichi (D)
From 8:00 PM Myo(D)

●Kagaribi (Bonfire) Enburi
At the public square in front of Hachinohe City Hall
From 6:00 PM, 7:00 PM and 8:00 PM
6:00 PM Yamamichi(D)
7:00 PM Higashi-Tokaichi (D)
From 8:00 PM Myo(D)

Ishido (N)
Hosogoe (D)

●Oniwa Enburi(Fee required / Reservation required)
Kojokaku From 4:00 PM, 6:00 PM and 8:00 PM
» Kojokaku
February 20
From 1:00 PM Okubo(D)
From 2:00 PM Shigechi(N)

●Enburi Open Performances
At the public square in front of Hachinohe City Hall
From 1:00 PM Okubo(D)
From 2:00 PM Shigechi(N)

From 6:00 PM Konakano(D)
From 7:00 PM Juichinichimachi(D)
From 8:00 PM Uchimaru(D)

●Kagaribi (Bonfire) Enburi
At the public square in front of Hachinohe City Hall from 6:00 PM, 7:00 PM and 8:00 PM
From 6:00 PM Konakano(D)
From 7:00 PM Juichinichimachi(D)
From 8:00 PM Uchimaru(D)

Hattaro (D)・Yokocho(N)

●Oniwa Enburi(Fee required / Reservation required)
Kojokaku From 4:00 PM, 6:00 PM and 8:00 PM
» Kojokaku
Enburi events at each facility
During the Enburi period, Enburi can be seen at facilities throughout the city. * Please note that there may be changes due to factors such as weather, Enburi groups' circumstances, etc.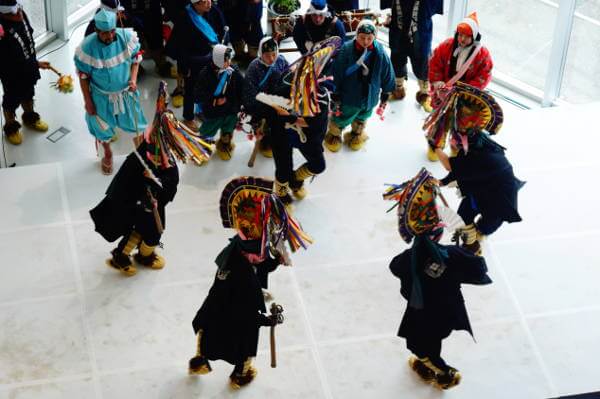 Enburi Performances in hacchi (hacchi Square)
February 17 From 1:30 PM Nagawa Junior High School(D),5:00 PM Hattaro (D)
February 18 From 12:00 PM Toyabe (D), From 5:00 PM Kensankai (D)
February 19 From 12:00 PM Okubo (D), From 5:00 PM Higashi-Tokaichi (D)
February 20 From 12:00 PM Juichinichimachi (D), From 5:00 PM Kami-Kumicho (D)
* D = Dosai-enburi N = Naga-enburi
Nanbu Hall
Feel free to drop in – there's no charge. (10:00 AM-8:00 PM)
During the Enburi period, besides watching the events, you can try crafts such as making a mini eboshi headdress or decorating a Yawata-uma horse figurine.