The Shingo Onsen sources its waters from a legendary hot spring called The Eagle's Spring. Legend has it that long ago a huge eagle was found in a local hot spring nursing a wound. The waters of the spring were said to have cured its wound, and thereafter it was named after the bird. 
 The waters of this onsen are drawn from the source of the spring 600 meters away. It is a simple alkaline-based hot spring, that is purported to be beneficial for neuralgia, muscle pain, stiff back and shoulders, poor circulation, etc.
The hot spring facility features a large pool, an outdoor pool, and a sauna. Tucked away in the mountains, the beautiful scenery and nature are sure to help you relax as you take a long soak in the baths. The hot spring also functions as a rest area for guests to relax in and has a Japanese style tatami room along with other amenities for guests to enjoy during day-trips.
Overnight accommodations are also available, and the hot spring serves is a great place to use as a base for exploring surrounding sightseeing spots. The onsen is a favorite among the people of Shingo and is very amongst visitors, who end up coming back to the hot spring time after time. The Shingo onsen is a great place to relax, slow down, and enjoy the village of Shingo.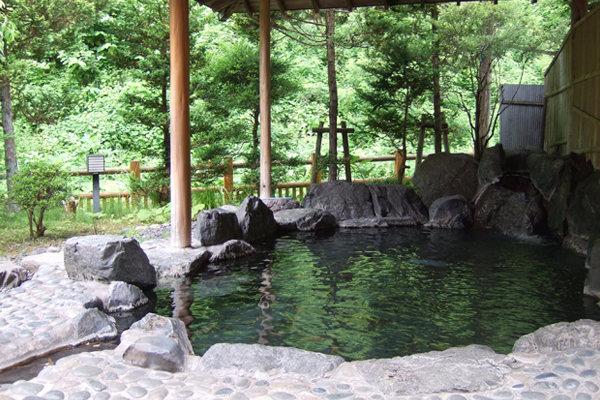 Information
Address:

Onsenzawa-5-4 Saigoshi, Shingo, Sannohe District, Aomori 039-1802




Phone:

0178-78-3050

Open:

9:00~21:00
※Sauna is available on weekdays from 14:00

Closed:

 Monday (if the Monday is a public holiday the facility will remain open)

Bathing Fee:

 Adults (Middle School and Over) 400 yen, Elementary 150 yen, Toddlers & Infants: 60 yen
【Room Rental Fees】2nd-floor tatami room (8 rooms available): 1,000 yen per room (10:00~15:00) (If you would like to borrow sleeping equipment etc. it is an extra 1000 yen)
【Accommodations (1 night, no meal included) 】 Adults 2,800 yen, Children (Elementary or younger) 1,500, Toddlers & Infants: (if no sleeping equipment needed) free

Access:

By car: 15 min from Shingo Village Hall

Parking:

Available

Website: